Valentine's Day, an excuse for us to spoil the ladies in our lives most often and also the men. If you're feeling lonely this Valentine's Day do something fun with someone you love, no matter who it is. Brighten their day and they'll brighten yours! I almost think Valentine's Day is just a little reminder for us to be more thoughtful to each other (and to be overwhelmed by hearts and candy).
Lucky for me I have an unhealthy obsession to hearts (it was the first thing I learned to draw as a toddler!) because my birthday happens to be the day before Valentine's Day — which means eating out at two nice (and Japanese) restaurants and getting way too many (impossible!) hearty gifts.
So no matter what you do this Valentine's Day enjoy a heart-shaped lollipop in a pink champagne bubble bath just for you.
Valentine Recipes
Valentine Soda a Valentine favorite! (xoxo, Amber Renee & Ashley Galliher)
Carbonated beverage
Strawberry sorbet (or ice cream)
Whipped cream
Strawberry preserves
Dispense ginger ale or any carbonated drink above strawberry ice cream in tall glass and top with whipped cream and strawberry preserves.
Valentine Omelet (ala Doe Deere)
Tomato & Mozarella Valentine's Day Omelet (to surprise your sweetie in the morning)
Makes enough for 2.
Mix 3 eggs, a cup of milk and a pinch of salt together
Pour mixture onto the hot, lightly oiled pan
Slice cherry tomatoes in halves and arrange them in a pattern (feel free to make a heart, a smiling face, etc.)
Sprinkle shredded cheese (such as mozzarella) on top. Season with dried or fresh basil & pepper.
Cook under the lid for 4-5 minutes.
Serve on a contrast plate (I got mine at Target).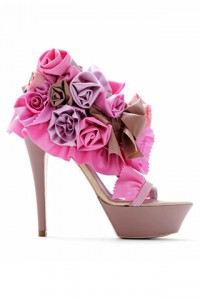 Love Online
Heart Pumps & Shoe Lust ala Audrey
Shabby and Sweet by Papercakes
Open Letters to my Heart from Glass of Win
Customize your Accessories with Doe Deere
Pink Box
Cupcake Store Online
Celebrate Valentine's Day Without Spending Money
Raising Emotionally Healthy Children
Valentine's Day on the Cheap
Life & love require experience… or just let Miseducated writer Michelle Shea Walker lend you hers.
Experience Preferred
Valentine Entertainment
One of the best things about Valentine's Day (in my opinion) is the abundance of pink, red and heart themed specials online and offline everywhere.
Find love in Pet Society, Country Story, Restaraunt City and Hello Kitty Online
Valentine Specials
Twinkiechan's lovely Valentines
Sugarpill Launch (code: "hello15" for 15% off your order through Valentine's Day)
Hello Kitty Valentine
Lime Crime (code: "bemyvalentine" for 10% off your entire order)
Valentine's Day at fredflare
Valentinspiration
Life on lovely days.
Coming Soon Online

Original electronic music to soar to.


Audrey Kitching's handpicked goodies and one of a kind merchandise in an adorable shop online.
Miseducated News
Support Miseducated
Indie businesses and non-profit organizations can take advantage of targeted advertising for Miseducated viewers.
Tease
Miseducated is going to be offering hand-painted tees for a limited time. Miseducated members will get first pick and the remaining shirts will be sold online.