Bubble tea/boba tea, is usually a milk tea drink with tapioca pearls sitting on the bottom, waiting to be slurped up a large, colorful straw. Bubble tea originated in Taiwan in the 1980s, pearl milk tea is the direct translation from Chinese. Thanks to Taiwan, bubble tea is now available all over the world.
Know of a great bubble tea spot? Post it! There are three I know of in the Indy-area. Strange Brew, a cafe in Greenwood, serves bubble tea as well as a Vietnamese restaurant in downtown Indy and a fast-food Chinese stand in the Washington Square Mall. If you know of any spots in your neighborhood you should list them, bubble tea is a fun, tasty drink that should be shared with friends.
Bubbles
The ratio should be about 7:1 (water to tapioca pearls).
Boil water in a large saucepan.
Add tapioca pearls to boiling water.
The pearls should float.
Continue boiling for about 25 minutes (depending on the tapioca pearl type) covered.
Add some sugar to the water so they absorb the sweetness but make sure it doesn't burn!
Turn off the heat and let the pearls cool.
Rinse the cooked tapioca pearls in warm water and drain out the water.
Cover with syrup and add some to your favorite drink.
Syrup
1 cup white sugar
1 cup brown sugar
2 cups water
Mix sugar and water in a large pot.
Cook at medium to high heat.
Once the mixture boils remove from stove immediately.
Let cool; to be used for bubble tea and similarly sweetened drinks.
Rainbowlicious Bubble Tea
1/2 cup strawberries
1/2 cup pineapple
1/2 cup rice milk
1/4 cup syrup
1 cup ice
2 cups of cooked tapioca pearls
Place all ingredients minus the tapioca pearls into a blender and blend well.
Blend it to desired consistency.
In the a glass, pour some cooled bubbles.
Pour your blended smoothie on top.
Cover the top of the smoothie with strawberry slices and pineapple chunks.
* I had this piled high like and covered in strawberries and pineapples at the E-Zone cafe in Toronto with my best friend. Too bad the cafe has since closed and I have never found anywhere even comparable!
Iced Bubble Coffee
1/4 cup non-dairy powder creamer
1/4 cup bubble tea sugar syrup
3/4 cup desired strength coffee (cool)
1 cup ice
2 cups of cooked tapioca pearls
Put coffee, creamer, and bubble tea sugar syrup in a shaker and mix well.
Add ice, cover shaker and shake until blended and frothy.
Add tapioca pearls into your desired glass, pour the coffee on top and enjoy!
➡ No bubbles? Try coconut meat or a thick-set flavored gelatin for substitutes!
Show Your Bubble Tea Love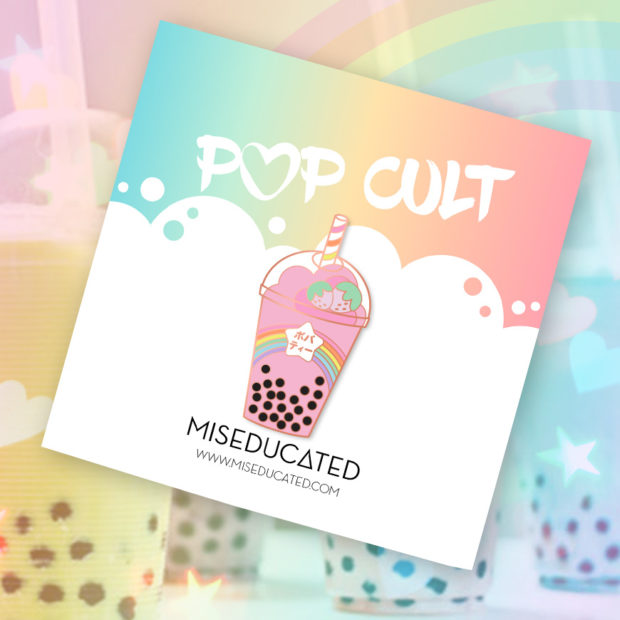 This *LIMITED* hard enamel lapel pin is so tasty I want to eat it. It is a magical strawberry bubble milk tea fresh from Miseducated Bubble Tea Bar! My first bubble tea was in 2003 in Toronto and I immediately fell in love. When I lived in Japan I delighted in bubble shaved ice at any opportunity. It's a texture thing! If you also love the tapioca pearl bobas and the tasty teas then you can show your love with this super kawaii tea pin!