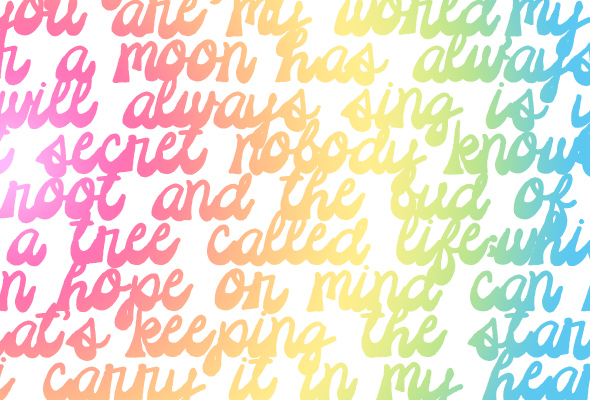 Expressing strong emotions through poetry will never go out of style, and even if it does, who cares? It's all about making someone feel as special and beautiful as you see them, as they truly are. Want to know a secret? You don't need to have any kind of talent to write a poem, just say what you feel! The best poems have come about when someone was feeling something intense, especially the adoration for another person. If you don't know how to begin, here are a few techniques and hints.
Do Some Free-writing
Put a picture of your loved one in front of you, or just sit somewhere where you won't be disturbed for a while and think about them. Start writing down everything that pops into your head, without worrying
that it sounds silly. It won't look or sound like a poem yet, and that's okay—you're getting your thoughts and feelings down in words. It also helps to get in "the mood" by lighting a few candles and putting on some music (just be sure you don't subconsciously copy some of the lyrics to "Need You Now" or something!)
Take Your Time
You may or may not write your love poem in one sitting, so take it easy and don't push yourself. If you rush, it might not sound as good as if you took a couple of days or weeks to let it come to you. Keep a notebook or your phone on you so you jot or type down whatever pops into your head that might sound good. Remember, this is something you will use to impress the one you adore, so take your time!
Find the "Beat"
You don't need to write a sonnet full of "thees" and "haths" or even something that rhymes. Most poetry does have a "beat", however, which is what distinguishes it from prose. Read some good love poems to get a feel for the beat of poetry, and all the different ways it can be written. Here is an example to get you started:
"i carry your heart with me" by E. E. Cummings
"i carry your heart with me(i carry it in
my heart)i am never without it(anywhere
i go you go,my dear; and whatever is done
by only me is your doing,my darling)
i fear
no fate(for you are my fate,my sweet)i want
no world(for beautiful you are my world,my true)
and it's you are whatever a moon has always meant
and whatever a sun will always sing is you
here is the deepest secret nobody knows
(here is the root of the root and the bud of the bud
and the sky of the sky of a tree called life;which grows
higher than the soul can hope or mind can hide)
and this is the wonder that's keeping the stars apart
i carry your heart(i carry it in my heart)"
The lines break it up so that there is a subtle rhythm as you read it. The poet also creates a beat inside the lines, and he repeats the main line of the poem to draw it together at the end. You can also distinguish a brief pause in a line with punctuation.
Here is an example of how a poet writes in rhyme and line-groupings called a "stanza":
"Love at the lips was touch
As sweet as I could bear;
And once that seemed too much;
I lived on air"
~ From "To Earthward" by Robert Frost
Start experimenting and using some of your best lines from your free-writing and see what you can come up with.
Other Poetic Elements
Use some metaphors, similes, alliterations (All ambitious alligators adore alliterations!) and strong adjectives and verbs to paint a picture with your words. There are many other elements of poetry, such as allegories, personification and allusions. You could also just get literal and say what you feel, straight out! The poetic elements are just different tools to use.
This is just an intro to writing a good love poem—just to let you know that this is something anyone can do if they try. A love poem written from the heart is more valuable than a diamond ring and means so much more.