Throwing a party always sounds like a good idea when you've got a great theme and apt time to invite friends! When planning an adult party with friends the most important thing to remember is keep it fun, keep it going strong (until the party ends). Sometimes when several groups of friends are invited there is an awkward time period where guests don't feel comfortable talking, make sure to serve drinks, snacks and start a fun group game or a conversation that all parties can participate in. Even if you feel your guests aren't the crafty type, whip out some diy stations! Have a coloring section with vintage toons to bring back fond memories or a beading station. Sometimes guests simply enjoy doing things with their hands while chatting.
Themes are commonly overlooked by today's party throwers, after all we don't have the time of the 50s housewife to focus on every last detail. We can however design one rad party.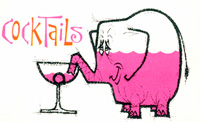 Try throwing a..
Craft Party
Set up numerous types of craft stations for making worthwhile goodies. Ask party goers to bring their own doodads and knick*knacks for your stations. (Hint: vintage charm earrings, mosaic frames/mirrors, water coloring desserts)
Holiday Party
For those tapped out on ideas, you could just wait for any ole holiday to roll by and throw a party in honor of it. You can do a Valentine party with pink champagne, karaoke and heart decor; or bunny-shaped mooncakes for the Chinese New Year.
Taffy-Pulling Party
A fun retro party for adults or children. Just throw in some candy-flavored cocktails and have the taffy ready for pulling after everyone arrives and gets introduced.
Saltwater Taffy Recipe
3/4 cup water
2 cups sugar
1 1/4 cups corn syrup
2 tablespoons butter
Flavoring and coloring as desired
1 teaspoon salt
Measure 2 cups sugar, l 1/4 cups corn syrup, 3/4 cup water, 1 teaspoon salt into a saucepan and blend well with a wooden spoon. Place over low heat until sugar has dissolved, stirring continuously. Increase the heat and do not stir during the rest of the cooking. Wash the sides of the pan with a brush or fork covered with muslin and dipped in water, using an upward motion. This will prevent the formation of crystals which might cause the candy to sugar. After the syrup boils put in the candy thermometer, and when the thermometer registers 265 degrees, remove candy from heat. Add 2 tablespoons butter and stir very gently. Divide the taffy into three parts; you'll add different flavors and coloring to each one during the pulling process.
Drive-in Party
Bring snacks, grill-out, set out picnic blankets and lawn chairs and prepare your projector for a private, friends-only outdoor screening. Try a creepy, crawly horror film while camping!
Disco Party
Dressing the part is a must, dig out your soul train collection and project it onto the wall or play it in your tv set, think dark, lights, glitter and mirrors to create a disco fantasyland. Skates can be optional if you don't have carpet hiding your floors. The only thing better than disco is roller disco.
Costume Party
Theme it over a certain costume, such as a Marie Antoinette Cocktail Party, or allow all costumes.
Tea Party
Have many assorted pots of tea and teacups of all shapes and sizes everywhere, guests should have the option of trying whichever tea they like! Be sure to have sugar cubes and cream available for the sweetie lovers. Scones, cupcakes, tartes and tortes are musts. Do not skimp, break out the strawberries and chocolate. Litter the table with champagne glasses and raspberries and break out the champagne and dessert wine if the tea party continues into the evening.
Psychedelic Party
Trippy records, shag rugs, motion lamps and colorful lights. View some vintage cartoons about dreamland and take a walk outside through the neighborhood. Live near any parks or beaches? They might be fun to explore with friends.
Bring-Along-Pets Party
This could be fun or horrible! It all depends on your small ones. Make sure there is ample food and water around, keep it specific to one type of animal such as cats, small dogs or large dogs (would be best in the backyard or at a local dog park).
Funny Hats Party
For those that aren't ready or willing to commit to a full-costume party. You can also have a 40s Hat Party, a Tacky Brooch party, etc.
Masquerade
Require masks upon entry or make masks upon entry. Use classical music and offer whimsical, fantastic foods such as magical candied apples and Absolut Raspberri Royals.
Absolut Raspberri Royal
1 Part ABSOLUT Raspberri
3 Parts Champagne
Raspberry
Add all ingredients into a chilled cocktail glass. Garnish with 3 whole raspberries.
Similar Hobby Bring-Along Party
Collect anything that would constitute a fun party? Think Blythe dolls, sweets and cameras!
Mod Party
Keep everything mod and chill. The recipes, music, party wear, everything.
Any theme you select simply do a bit of searching on.. say I'm going to throw a 80s party then I'm going to find a good selection of 80s toons, 80s movies, similar themed-foods, activities, decor, music, etc. Do a bit of research on the topic you chose (a Fairy Tea Party!) and find ideas for food and decor.
The possibilities are absolutely endless.