Worried about kitty's food allergies? ASPCA has the word on those. Make sure you don't use any ingredients that will harm your krazee kitty!
If you're having a kitty party and having all the kitties in your neighborhood over, don't. Kitties prefer having tea parties with their own families and are very territorial, especially when catnip and tuna are involved!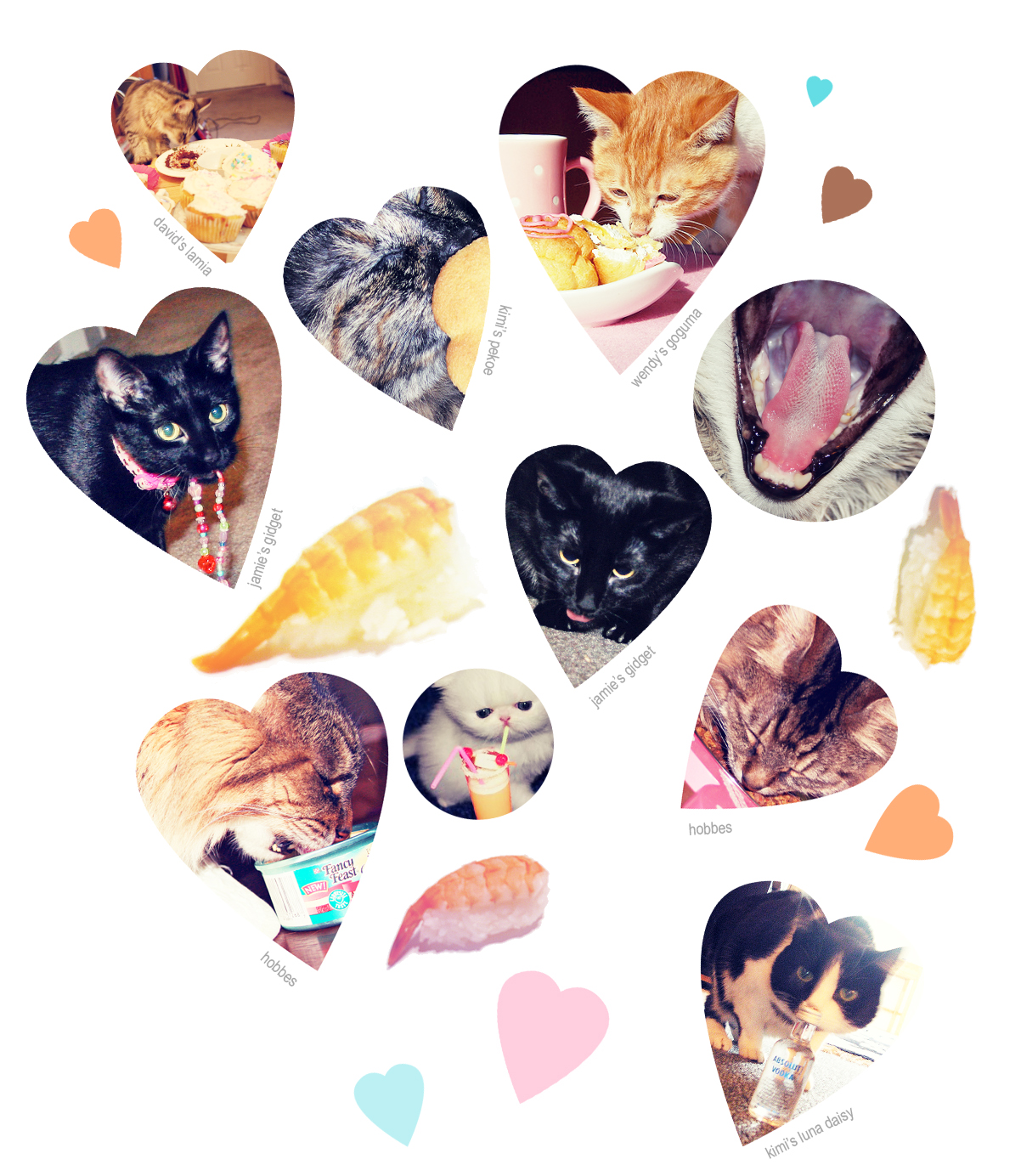 Kitty's Cookies
1 cup of all-purpose flour
1/4 cup of whole wheat flour
2 tablespoons of wheat germ
2-4 tablespoons of catnip
1/3 cup of water
1/3 cup goat milk
2 tablespoons of vegetable oil
1 tablespoon of molasses
1 egg
Begin by pre-heating the oven to 350*F.
Combine the dry ingredients in a bowl (flour, wheat germ and catnip).
Combine the wet ingredients in a bowl (egg, milk, vegetable oil, and molasses.
Mix the wet and dry ingredients together and work it into a dough
Lightly flour the counter or other work surface
Remove a portion of dough and use a rolling pin to uniformly flatten the dough to a thickness between 1/8 of an inch and 1/4 of an inch.
Cut the dough into 1-inch squares using a rolling pizza cutter or a cookie cutter of your choice.
Place the cookies on a lightly greased cookie sheet.
Bake the cookies for 10 to 15 minutes, or until the cookies are crisp and lightly browned.
This recipe will make approximately 50 medium-sized cat treats.
Once the treats have cooled, gently remove them and place the cookies into several small freezer bags.
Tuna Surprise Kitty Bonbons
1 cup whole wheat flour
1/2 can tuna, in oil or 1/2 cup cooked chicken, chopped into small pieces
1 tablespoon vegetable or cod liver oil
1 egg, beaten
1/4 cup water
In large bowl, mash the tuna (or chicken). Add the flour, mixing well. Stir in the water, oil and egg, mixing well. Mixture will be sticky.
Shape mixture into 1/2-inch sized balls. Place on greased baking sheets. Press balls to flatten.
Bake at 350*F (175*C) for 10 minutes. Remove treats from oven; let sit 5 minutes and then turn treats over and bake another 10 minutes or until golden brown. Cool completely on wire rack. Store in an air tight container in refrigerator.
Tuna Pops
Drain liquid from tuna packed in spring water. Freeze liquid in small ice cube trays (cocktail ice cube trays work nicely, fish shaped from IKEA trays? double points!). Give no more than 2 cubes at 1 time as a treat. Reuse your can of drained tuna by placing in it an airtight container and covering with filtered water overnight for a second batch of tuna-pop water.
Catnip Tea
tea ball loaded with catnip
1 cup Water
Put the catnip in a bottle, pour in the water. Put the cap on the bottle,and shake until the catnip tea is green.
Preserving your Cooked Treats
Since these treats are preservative-free, they will not last forever. So to extend their lives, store them inside the freezer in several small freezer bags. As needed remove a bag from the freezer and leave it out for several hours to thaw. Once the treats are thawed, transfer into a Tupperware container for easy access and store the treats inside the refrigerator for up to two weeks.