Bathing in tea is not only beautiful and extravagant, it feels good. I'm a big tea and coffee lover in general and I can't often use scented bath products as they aren't the best for my skin or feminine health due to the chemicals they have. Bathing in herbs and teas is certainly a much better relaxing, decadent choice for most of us than sitting in bubble bath!
I still get messages from readers about our "The Beauty Benefits of Bathing in Tea [in Australia]" post by Michelle Walker and I decided it was finally time to do a beauty update! For one, many of you explained that you don't have access to take baths so I've given you some more options for "bathing in tea." Enjoy!

Great Teas to Bathe In
Chamomile: A great choice if you suffer from break outs or just want a glowing complexion. It's no surprise that chamomile is also stress-relieving and relaxing, as it is commonly enjoyed to calm down before bedtime, so also try it as a relaxing bath before going to sleep.
Peppermint: A great refresher after a long day and a great choice to get you going. I even love simmering peppermint leaves on the stove as a winter blues pick-me-up and it's a great scent to clear your sinuses if you're feeling under the weather. I have also found peppermint is is very helpful if you're feeling nauseated or sick to your stomach.
Green Tea: Green tea is also great for your skin as it contains antioxidants and a high amount of vitamin B, It's a great choice for relaxing muscles and sweating out toxins. Also, as it has caffeine, it's a good morning ritual.
Lavender: The most relaxing aroma (in my opinion) that helps you destress and will even improve a migraine. I keep a sachet of dried lavender beside my bed for just those reasons alone.
Jasmine: Jasmine is moisturizing and is said to improve stretch marks. The scent, to me, is intoxicating and one of my favorites to bathe in at the start of my day.
Rose: One of the prettiest teas to bathe in, of course you can toss in rose hips, rose buds and rose petals and feel like Marie Antoinette herself. What's even better is this makeshift rose water tightens pores without drying them out and is also full of antioxidants. Rose water is a great toner–your skin will certainly thank you for this one!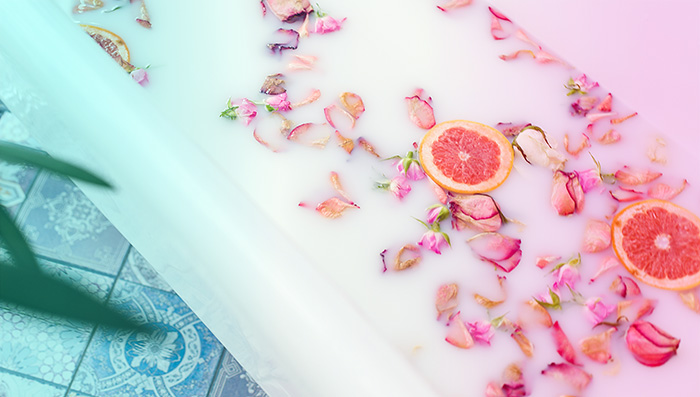 Cream or Sugar?
Of course you can't add sugar to your relaxing bath (a yeast infection waiting to happen!) but milk is a great addition to bath teas.
Milk Tea Bath: Milk contains a lot of fat and protein that leaves skin feeling supple. Lactic acid in milk helps to exfoliate and soften the skin leaving you with a glowing complexion. Add teas for more benefits.
Only Have a Shower?
You can still "bathe in tea!" Shut the bathroom door and let a steamy shower run for a few minutes on some teas and herbs placed within muslin, cheesecloth or pantyhose prior to getting in. Leave the tea bags in the shower while you bathe.
Steam Treatment
Another option is to heat the herbs in a simmer pot on the stove and do a steam treatment on your face. You'll simmer the herbs in the pot, remove it from the stove and then cover your head in a towel while you hold your face over the steaming pot — be careful the steam is not hot enough to burn! Make sure you stay far enough from the simmering water or it will harm your skin (or mood!) more than improve it.