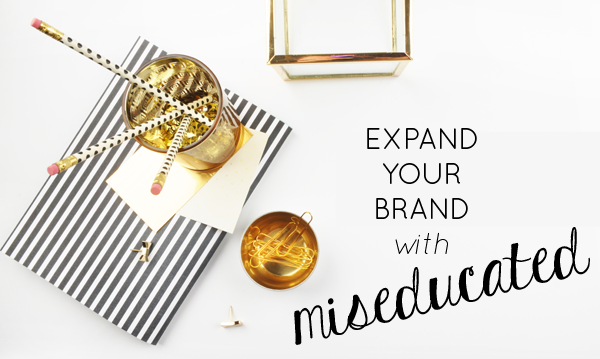 You might have noticed in the last several months I've been seamlessly combining my portfolio and marketing work with my blog here at Miseducated. This is due to the fact I needed to expand my business hosting account so I decided to combine my efforts and enhance my brand. In a part I can now equally focus on expanding the agency for work as well as continue blogging passion. Below you'll find a press release of sorts with advice for those looking to expand their brand, build an online presence, and acquire new client attraction.
Miseducated is not just a blog but is also a boutique marketing agency that creates attractive business promotions, attractive brands, and premium web sites. With over 15 years of web design and social media marketing expertise; I understand effective design.
Miseducated offers you innovative and attractive design, captivating imagery and gold-woven copy combined with compelling offers and strategic promotional methods to bring you new client attraction and more attention from loyal clients. If you provide a product or service, I will teach you how to be the next big thing and provide you with a competitive advantage in your marketplace.
Many companies mistakenly implement a fundamental brand and website to save on operating and marketing costs. These website design efforts range from adequate to amateur (from drag and drop to friends and family help) ultimately sacrificing the polished online presence necessary to stand out in a crowd. As you know the field of design is a competitive business with many amateurs claiming they know design and marketing strategies, but when it comes down to it most are not able to deliver.
Business owners upon hiring an unqualified agency or designer soon realize novice web design efforts result in amateur results. They discover the site is not providing a competitive advantage, not attracting new clients, and that their site is similar to thousands of others – a total red flag in all business.
How can you avoid this problem? When hiring a brand designer or marketing agency you should be served with an initial consultation as well as a roadmap that outlines the specific actions you and your company will take to out-maneuver peers for needed resources and client retention. There should be measurable goals within the plan so you can be sure your new design and marketing strategy are serving your company as planned and moving your organization forward. A professional can translate the essence of your unique business into a savvy, engaging website and online brand.
In short, The right website will show off your business and allows you to reach out to new customers and stay in touch with current ones. So, ask yourself today, if your website is a true reflection of your business then what is your website reflecting about your brand?
Look in my design portfolio here for some examples of marketing design.