There's a pet peeve I have that I feel is a prevalent issue in our society and yet I see little to no articles around the specific flavor of it while cruising through Google and the blogosphere… I'm hoping I just missed them but regardless, I must write. I'm referring to how, "She's too pretty to… *insert visual ailment or critique here*", or "She would look better if…" My parents told me as a child that I was beautiful. However as I got older (into the grade school years) I began hearing comments, like most girls do, about how I shouldn't wear wrinkled clothes, how I shouldn't eat too much sweets or gain weight, how I should brush my hair, how I should take care of my skin, how I should appear in public. All slightly caring things.. but they soon started to get worse and much more critical.
You see, as most (if not all) women get older, the comments get WORSE. Much, much worse and what's even more tough is they are generally coming from your peers and people whom you respect. People whom you want to like and accept you.
"Why is your face cracking?", asked a first-grade classmate, referring to my slight spider veins. After which telling the entire class how scary my face was and many of my friends turning around and laughing at me. My face wasn't cracking… my heart was.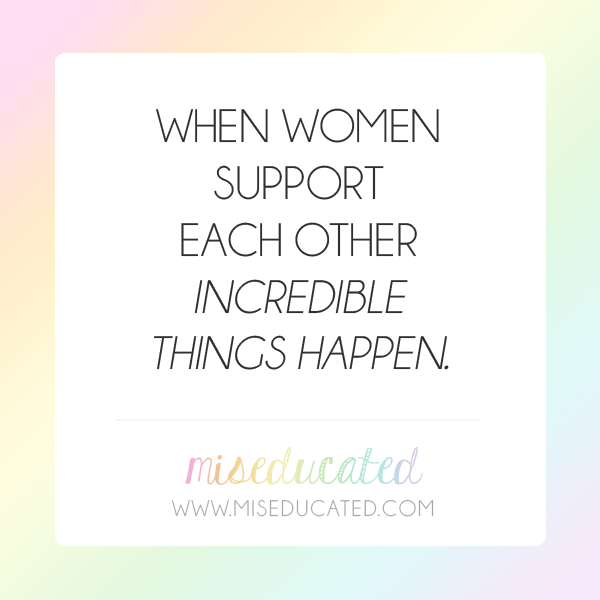 As you start to near and/or go through puberty as a young woman you can be sure things will again take a change for the worst. Suddenly you are not just a child anymore, suddenly you are expected to be whatever form of beautiful the person criticizing you appreciates. Suddenly if you're eating too much dessert you're going to get too fat to have any friends. If you're growing too fast you're going to look like a promiscuous 11-year-old that is unknowingly asking for attention from boys and men. If you're growing too slow you're going to earn songs of mockery about how your chest is flat. Blatant critiques about how your hair is too short, too long, too flat, too full. About how your skin is too pale or too dark. About how your legs are too short or too wide. About your body hair is too dark, too thick or too long. Never mind how different each of us are, how she might have vitiligo but you have a scar; she has spider veins but you have dark body hair; she might have acne but you have curly hair; how she has thick thighs while yours are "chicken legs." Why isn't a girl pretty BECAUSE she's unique? Because of her freckles? Because of her scar? Because of her skin coloration? Because of her texture of hair? Because of her build? Why do we all have to fit a mold of whatever is deemed attractive when we don't even want to? When we don't even agree? When we want to be ourselves? When everyone should adore us for our unique, visual features?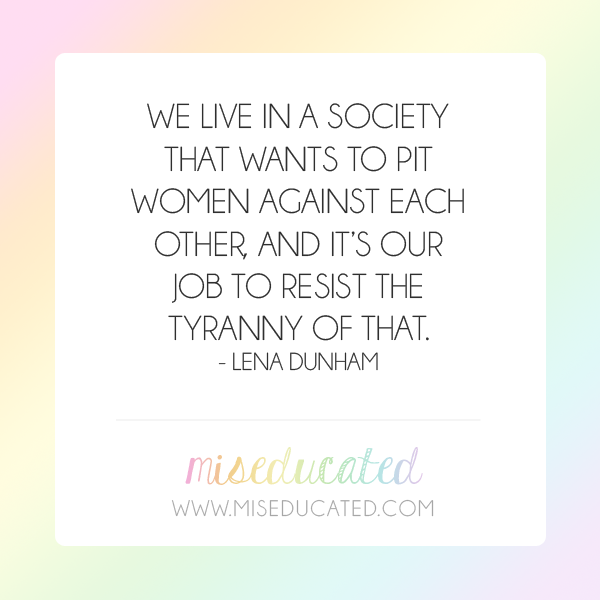 The worst of all these critiques start coming from your friends as a pubescent girl and from other girls. Girls begin to lose sight of lifting each other up and being strong together and instead choose to tear each other down and gain "status." They begin to believe if they tear her down for her hair then they'll feel better about their own. The walls between women begin to be built. In a personal example I remember being teased incessantly in 6th grade at age 11 because I hadn't developed breasts yet and my classmates had began to. Then when I arrived at school after summer break ready to start 7th grade (with breasts) I was suddenly attacked by all of my friends for stuffing my bra. When I showed them I didn't stuff my bra in gym class I was teased for trying to seduce them and labeled a lesbian. When I avoided guys I was a "lesbian" but when I had guy friends I was "slutty." I hadn't even began to date at the age of 13 and already I was labeled with just about every female-based insult you could come up with. By other girls. By my "friends."
Why are girls taught to do this to each other? Why do we continue to do it in new and more covert ways as we age?
I began to get comfortable with myself in college and I just avoided people who openly judged me by my appearance. I gained my freshman 30 pounds and my clothes stopped fitting and I felt happy. In all of the photos of that period I'm smiling from my heart. I'm with my friends whom accept me regardless of my size, regardless if I lost 40 pounds the following year or gained another 30, friends I still have to this day. I felt accepted and happy in a positive community of supportive women.
Years later, in graduate school, came the body-shaming to a degree I realized I had only tasted in middle school.
Lately there has been a lot of social media popping up about fat-shaming, about curvy hash tags and models with figures of a larger clothing size, about disgusting comedians who insult a whole selection of people based on size. About how companies don't have "real women" as models and how companies that use non-models showing their natural, naked bodies in a tasteful way get sued for "pornographic material." About how bikini's look on voluptuous, "real women" vs thin, fake ones.
It reminded me of being the only "skinny" girl in my graduate class.. about being teased about my clothing not fitting my body right, about my saving my food/dessert to eat at home because I must be "anorexic", about how men don't like bones cracking together and they want a "real woman" to hold onto. About how I'm not a real woman. About how I don't have large breasts and therefor am a child, not a woman. Now I understand these women must have had prior experiences of being treated in a similar way or they probably wouldn't be doing it to me but why are we so happy to pass on the shaming to each other? The teasing got worse and worse every late night we worked together on our project. Why wasn't I eating enough? Do I need a hamburger? They will THROW a hamburger at me if I'll eat it! I'm 22 and I don't even have cleavage! What's my issue with food? Am I not eating enough? Do I buy my clothes in the toddler section? I look unhealthy! I decided not to go back the next semester. My anxiety had grown to an all-time high for many reasons but I felt it getting worse just being around those two, strong-willed women who couldn't accept me because of my size.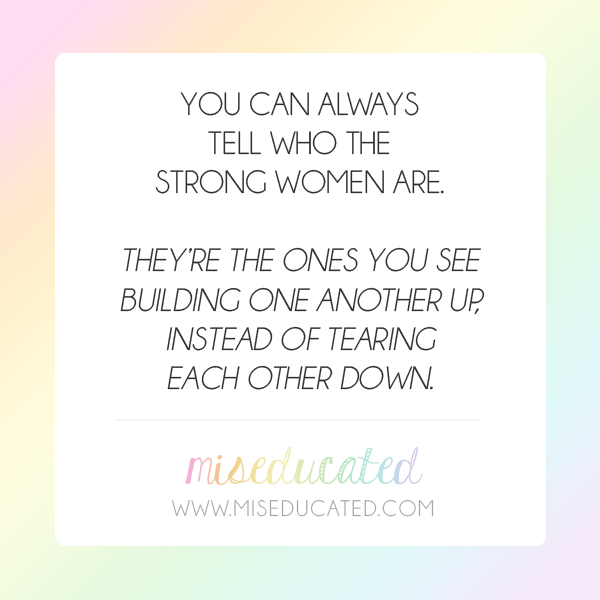 This was in 2008 and although many things have changed since then.. one thing hasn't. Women are still building walls in between each other that weren't even theirs to build. Whatever current, boring beauty standard seems like the truth is only a lie and an opportunity to further pull each other down. Don't even get me started on the current great makeup debate about how we should wear makeup, shouldn't wear makeup or how we must be insecure liars if we do, too masculine if we don't. Or how if we wear colorful, revealing or tight clothes we must be asking for attention from everyone. When really we shouldn't have to force ourselves to fit within anyone else's mold of beauty and we certainly can't expect push our sisters into that mold with us if we try. We are women, we must stick together and protect our beautiful spirits. When women encourage each other amazing things happen.
I've said it once and I'll say it again.. with all of these debates going around describing what "real women" do or do not look like, act like, have or are.. Real women have HEARTS. We're all real women.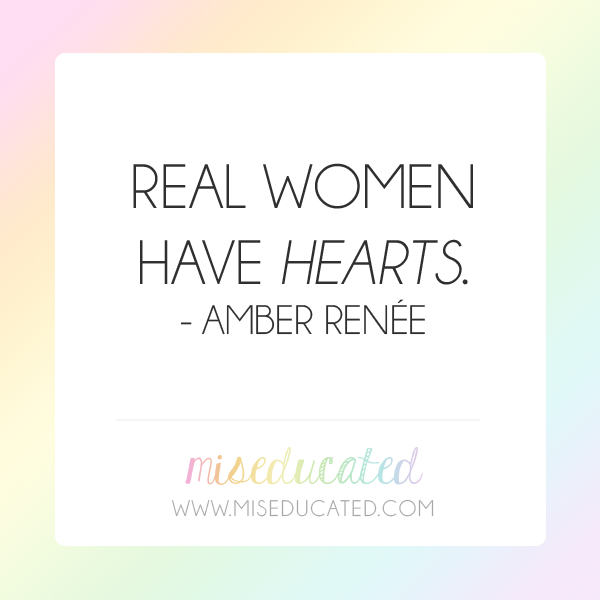 Current Events
Toronto police officer told a crowd of college women that if they wanted to avoid sexual assault, they shouldn't dress like sluts.
Lipstick feminism is a movement that attempts to dislodge the idea that traditional ideas of femininity undermine women. This movement encourages women to embrace things like makeup and feminine clothing, including revealing clothing, in order to show that having qualities that are defined as female does not make one inferior.
– Shaming women for makeup a destructive, anti-feminist approach, The Collegian
Instead, can we all just agree that we're all uniquely perfect in our own way? Can we just start celebrating ourselves for who we are and not be so caught up in the competition?
– Curvy vs. Skinny: Let's End the Women's Weight War Once and for All, The Huffington Post