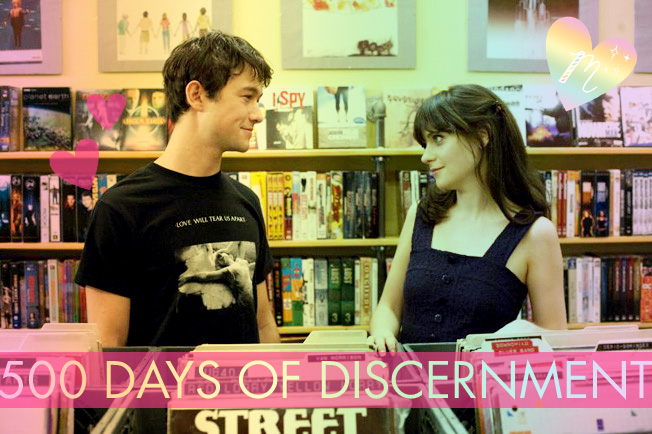 "If you don't like Zooey Deschanel, you're incapable of love." is a phrase that has shoddily fallen from my lips a lot, lately. Theoretically, this may have something to do with the following facts:
1. She's my doppelganger, and who doesn't love their second self?
2. I support everything Ben Gibbard (Death Cab for a Cutie / The Postal Service) does, and any friend (or in this case, wifey) is 'okay' in my book and/or
3. I encourage rampant sarcasm.
Therefore, it seems only logical that I would be watching (500) Days of Summer over and over… And over… And over again. I'm fairly certain that there's a cult devoted to Deschanel, and after the release of this movie, the members in which doubled, maybe even tripled in size. Unfortunately, I have yet to pledge my allegiance to actress/singer-songwriter by branding her face on my rib cage and learning the secret cult handshake, so if you thought this article was to be consecrated to her, you've been sadly mistaken.
What I would really like to share are all of the things I learned the third and fourth (..Fifth…And sixth…) viewing of romantic comedy-drama. The quotes that had stuck out distinctively, yet were so easy to over look. Like Twilight merchandise in a Hot Topic store. The little lessons embedded within the script that may or may not have been intentional, but will be interpreted and analyzed anyway (It's your high school English class all over again. Did the light at the end of Daisy's dock really represent all of Gatsby's hopes and dreams, or was there just a light at the end of her dock? How do you know, teaching' lady?! Did you have coffee with Fitzgerald or somethin'?!)
Tom: What happens if you fall in love?

Summer: Well, you don't believe that, do you?

Tom: It's love. It's not Santa Claus.
Do you remember Santa Claus? Do you remember the whole-hearted belief that he existed? Ever got into a fight at school over his actuality? You never had to see him Christmas night, despite how late you may have stayed up, to believe that it was him who had put all those presents underneath the Christmas tree, but you were willing to fight for his honor. Don't you wish you had believed in him just a little while longer, nostalgically wishing for that same whimsy every holiday?
Love is an awful lot like Santa Claus, it only exists if you believe in it. You won't see Cupid's arrows shoot through someone's chest cavity, but there are literally millions of signs that prove it's existence. And we need to fight for the belief that it's there, much like we had done with Old Saint Nick. What most older (cruel) children seem to forget when they crash our childhood down is that Saint Nicholas did exist, as does love. The only difference is that Kris Kringle was a mortal person, whereas love is an idea. A feeling. An indescribable occurrence, that will only live as long as we allow it to.
Most days of the year are unremarkable. they begin, and they end, with no lasting memories made in between. Most days have no impact on the course of a life. May 23rd was a Wednesday.
This was a quote with the kind of brutal and merciless honesty that cut me like a hot knife through butter when it collided against my ears. Imagine being on your deathbed and realizing that most of the days in your life were painstakingly monotonous. You woke up, you went to work or school, you came home. There were only a few special memories lingering in your head after your seventy,eighty,ninety years of life.
We need to find a way to make our lives mean more to us. We cannot keep spending the majority of our time here interacting with a lifeless machine. We need to stop telling our friends 'happy birthday' on their wall as we say it on the right side of the screen and actually make the effort to remember on our own, make a phonecall. Social networking should not be synonymous for social gathering. Life is too short for these hollow friendships that are solidified with 'likes', comments, and 'wall posts' rather then actual conversation. Everything there is to know about me cannot be found on my page.
Paul: Robin is better than the girl of my dreams. She's real.
To often I see girls and guys pass up their opportunity with an absolutely fantastic person because they're waiting for someone 'better' to come along, who never does. We need to get over ourselves and get to know one another before we make any sort of judgements. There is no such thing a perfect dream guy/girl, everyone has flaws (and I don't care how cute you think 'awkward' is, not everyone's flaw is going to be 'awkward'). We need to stop waiting around for some dream person, or some dream job to come up and sweep us away, or we'll be waiting around forever.
Tom: People should be able to say how they feel, how they really feel, not ya know, some words that some stranger put in their mouth. Words like love, that don't mean anything. Sorry, I'm sorry, I um, I quit. There's enough bullsh*t in the world without my help.
This one is as simple as it gets: What are words if you don't mean them when you say them? When you speak, speak from your own heart, as genuinely as you can.
Summer: We're just friends.

Tom: No! Don't pull that with me! Kissing in the copy room? Holding hands in Ikea? Shower sex? Come on! Friends my balls!
I really shouldn't have to tell any of you lovely gals this, but on the slim and highly unlikely chance that this smidgen of wisdom skipped over you: Don't send mixed signals. Be as clear as you can, as straight forward as possible. With relationships, at work, with friends. Misinterpretation can get ugly, especially when it's deliberate. If you don't know what you want, don't act on impulse until you do. It will save you and a variety of people in your life a whole lot of trouble.
What about you? What are you favorite (500) quotes? Is there any reason why?