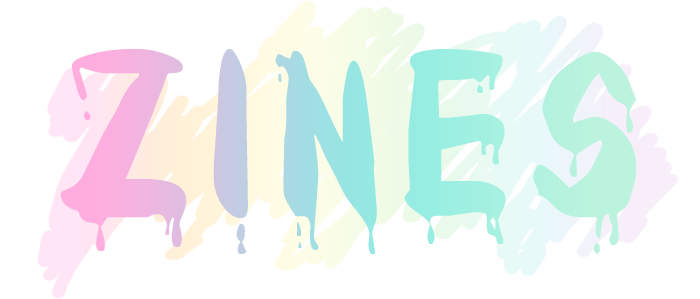 What are ZINES?
Zines are small-circulation, usually self-published, publications that come in many shapes and sizes. And I love them. All shapes and sizes of them.
Why do I love zines?
I wrote this article long ago but I looked it up just today and it had NOTHING of substance so I'm rewriting it. You see, when I started Miseducated as a blog it was my version of a zine because I had ignored the blog movement for so long. I kept my site solely an artistic and nonsensical web site, self-made with hand-coded CSS and HTML. After I started having odd dreams about starting a zine shop (like some hippie record store with lots of incense, shag rugs and pouffes to sit on around tons of zines to read/buy) with my wares on display, I decided this was my brain asking sub-contiously to be involved online again. To be involved in making instead digital zine-like articles with collage art via blogging.
A lot of our OLD beginning articles are like that: a page out of a zine just pasted on here with a few words. This article was one of those. I was a woman of few words and a ton of time to create personal and purposeless art back then. I did little more at home than sit around in my psychedelic robe drinking tea and smoking while playing my ye-ye collection and collaging nonsense together for this blog. I had no kids and no motivation to do much else.
My job made me feel like a monkey in a factory so I did whatever I appreciated at home. My home was a 2-story 60s lounge pad and when I didn't have a few friends over I was entranced by my world of pop culture archaeology carefully collected from others like me as well as thrift stores. I am not that girl anymore but I'd be lying is I didn't admit that sometimes I do miss her. I'd certainly like to ask her advice on a few things I've been planning and making. She was too sad and too lonely though. Too much of a downer to relate to anymore.
In case you can't tell by now, I have a major soft spot for zines. I have a cherished a big collection of them organized in my studio (they almost got ruined with our last big rain because I had them out by the open window!). I've collected such an array of them that I'm going to start showing some of them via you tube videos so you can view/read out-of-print zines along with me. I even have zines from Japan because I collected them while I lived there.
Zine Methods
Generally zines that arrive in my mailbox are copied onto white or colored paper using the cut and paste method. This is similar to scrap-booking, each page is created using printed/written text and graphics or photos and then copied and reproduced using a copy machine (it's a plus to work somewhere with a xerox). Although today many zines just use a few sheets of printer paper and are cut and stapled in home offices. There are some (fancy) zines who use color printing and there even are a few creators who still hand write and illustrate each and every zine. <3 In fact, I even made a PDF of an old zine I used to print because the color printing became too expensive to charge for the zine and in my opinion selling ads for zines is a big no-no. Nothing can bias a special, unique, self-made zine quicker than ads for companies who are simply paying you to be included.
Drool-Worthy Zines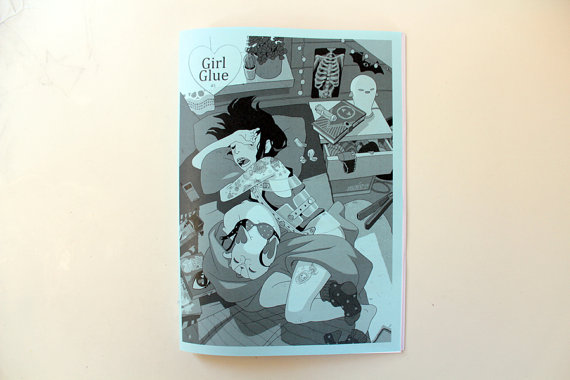 Girl Glue
by Mel Stringer
Create Your Own
Want to create your own mini-zine? There are a few patterns to try out floating around online. You can make your first one easy on yourself (sometimes the paper layouts when putting together advanced zines can be mind-blowingly confusing at first as I found when I used to print Tulip). If you need some help or inspiration (or contributions) for your zine LET ME KNOW. I'm a strong believer in supporting small-press.
8 Page Zine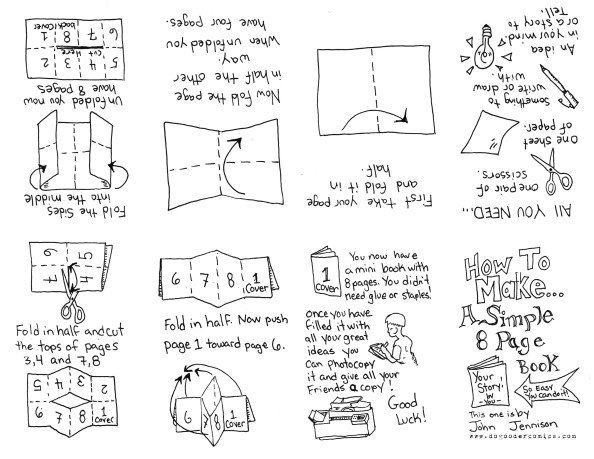 Learn to make a zine by printing out this template onto 8.5 x 11 paper and making it into a DIY zine thanks to Dogooder Comics~
24 Page Zine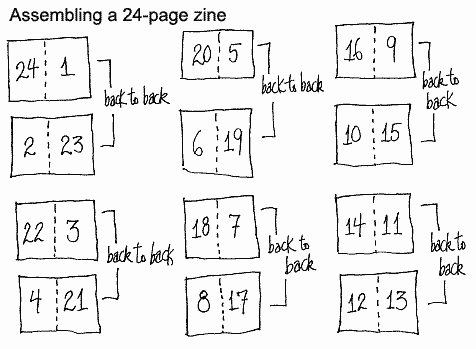 Featured Zine-Friendly Links