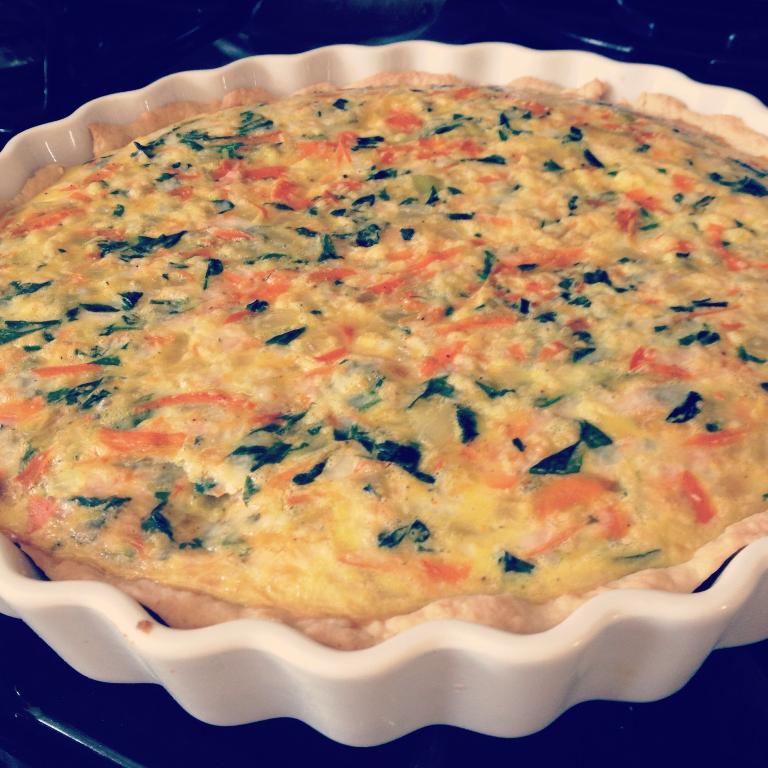 As you know, I've blogged recipes here in the past but have never actually made it one of my focuses at all until now. Having recently become a vegetarian and focusing much of my energy on being a domestic goddess I've become passionate about cooking and crafting my own recipes again as well as updating my old meat-inclusive recipe box creations.
With inspiration from my love I have began to embrace vegetarianism and healthy eating so I have updated my quiche recipe to fit our diet and to give him a little tasty and healthy pampering after a long work day.
servings: 19″ pie (serves 5)
prep time:
cook time: (10 min for veggies, 30 min for quiche)
total time:
Ingredients
1 pie crust
4 eggs
1/2 cup shredded carrots
1/2 onion diced
1/2 cup fresh chopped spinach
1 clove garlic crushed
splash of olive oil
1 cup shredded cheddar cheese
dash of nutmeg
salt and pepper to taste
Preparation
1. Preheat oven to 350 degrees F.
2. Heat oil in a medium skillet over medium heat and cook the vegetables in order of firmness until tender.
3. In a large bowl add sauted vegetables, cheese, eggs and spices and mix together.
4. Pour the mixture into a pie shell.
5. Bake quiche for 30 minutes in preheated oven on middle rack and enjoy.