This is a new kind of project I'm forcing myself to do. Having a few scheduled posts a week really works wonders for my over-stimulated brain. I cannot mindlessly list topics and ideas forever, brainstorming over great articles and DIY-material until I'm suddenly too drained to write or publish any of it.. silly! As much as I love lists, I've recently realized I'm wasting a lot of time on them. And.. as you may or may not know, a new mother's time is very precious and limited.
So I'm urging myself to again start keeping a gratitude journal which once helped so much with my positive outlook. I had been keeping one for months on my iPhone previously, another in a journal my doctor encouraged me to start.. I must say that although I enjoy journaling and scribbling nonsense, the gratitude thing worked best digitally because it was always on hand. I could attach photos in a flash and rate my days.. sadly when I updated my iPhone OS, however, my restoration went wonky and my gratitude journal -and all of the photos- were deleted. I had a bit of a melt-down -I'm lying, it was a full-on panic attack- .. I was so upset I couldn't now see the progress I had made.. the once unhealthy things I was so grateful for and the realization of what I should be grateful for.. to which of course my husband reminded me, "You have what you are grateful for right here, it shouldn't be hard to start a new one. I see the progress you've made and deep down you know you've made it."
So, on Mondays I will begin to look back at all of the wonderful (and even not-so-wonderful!) things I should be and am grateful for. It is said that keeping a gratitude journal is very healthy, a great way to be open to all of the amazing things you have in your life that you might not be noticing. It's also said to lift your spirits in a way that cannot be denied. I agree and I urge you to try it! Even if just for a month.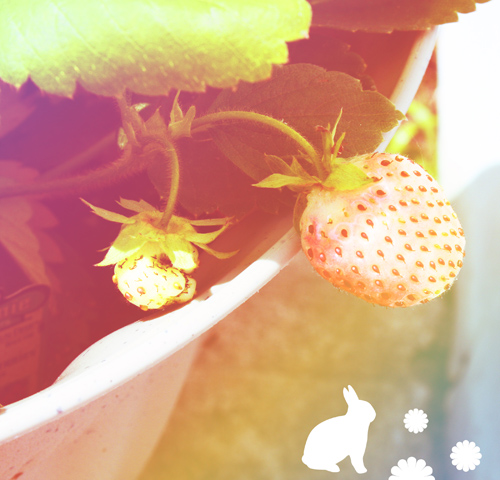 One
The sweet taste of a homegrown strawberry that I happened to rescue from the brink of death! We were in the grocery store and the fluorescent lighting must have left the shriveled plants with much to be desired. I instantly usherd one to the register and planted it in new soil and a large pot — now it's branching out into my yard and attempting to spread sugary-sweet red fruit to all of the rabbits in the area. I did get to taste one berry, one very delicious berry, however when I watered it today I noticed my other three berries had been eaten. We have a cottontail friend roaming around now and again so I'm sure he was the one who experienced the delight of the fresh berries — at least someone enjoyed them!
Two
Every single coo and grunt my daughter makes. And the fact that I unbelievably have a daughter and can talk about her. It's absolutely a trip and I never could have imagined how wonderful it would be. She's been in my dreams for quite awhile so I feel very fortunate that she has arrived in my arms and left me with a scar I will never forget. I can't to experience every new moment with her and I want to remember absolutely every day.
Three
Heart-wrenching memoirs of hardship and survival. I'm a dark, depressing memoir addict. I think it has something to do with being inspired by overcoming one's past to become an amazing and creative person. Having been through a rough and tumbly past myself and having watched many of those I love fall to the negativity of their own past, it's very enlightening to see what can be accomplished if you devote your life to overcoming it.
Four
My husband's new-found appreciation for cooking. Not just because I get to taste all of his experiments, either, but because I am also passionate about cooking up my own creations and it's double the excitement! We have yet another interest that we share and it's the best kind of interest — the kind that tastes delicious. He keeps practicing on fresh Tilapia and I keep inhaling it.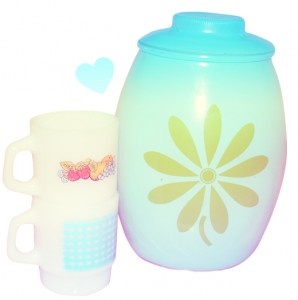 Five
Thrifting for vintage, kitschy mugs. Thrifting is not only fun alone, it's even more fun because of the people you do it with. I often go thrifting with my best friend or husband and we have a blast finding kitschy goodies, vintage magazines and trying on 70s bathrobes. It doesn't get old! You don't need a lot of money to have a great time combing through pop-culture memorabilia — just a lot of time and patience. Even a box of old records or postcards can become an exciting giggle fest. No matter what their selection, make sure you look through the mugs and vintage cookbooks — they'll always provide you with some inexpensive, kitschy fun for your kitsch-en!
What are five things that you're thankful for this week?