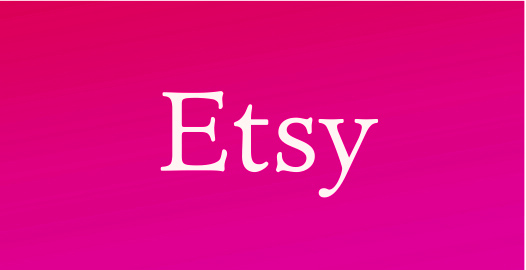 So I originally planned to write an article about using Etsy vs other cart software to open a store but then I saw my friend, Brigitte, did the same thing here. Her article is right on target so I had to feature it as well as give a few of my own findings.
As far as traffic and community goes, Etsy really has the best so it's hard to compete. If you don't have an Etsy account simply for buying and meeting new people you're missing out — it has a wonderful community. However for store customization and less limitations (I can't sell an item I didn't make on Etsy so no collaboration pieces are allowed in my shop.) I would have to go with Big Cartel. I know artists tend to use each of these obsessively and I think they're right on target. It all depends on what you want to do in the beginning as far as which store management you use.
To give you a little taste of what others are thinking, I ran a little poll. I asked people which buying/selling medium they prefer and why, this is what they said:
Louise: Etsy! It has a Girly/friendly feel to it. There's a lot more communication between buyers and sellers.
Irit: Etsy for handmade items, eBay for hard-to-get items.
Chelsea: I hate eBay – it's just not user friendly and I dont like how the combined shipping works. For homemade it's Etsy or Big Cartel only.
Kayleigh: Etsy, mainly just because it's what I'm used to. 🙂
Amber: I prefer buying off of eBay but selling on Etsy.
Jamie: I like to shop on etsy when it comes to finished products, and I like the community aspect of it but when it comes to buying supplies, I prefer eBay because the prices are more reasonable most of the time.
Kimi: I don't sell, I just buy. I use both Etsy and eBay.
And, in another poll, when asked which medium users prefer all users asked said Etsy first and foremost. I think you see the reaccuring theme here.
When deciding which store management to use consider the following: are you selling vintage? (Etsy) do you want to feature sold out products in your store? (Big Cartel) do you want a quick turnaround? (eBay) There are so many options for a seller online these days — the sky is really the limit. When you decide what you want to do it's completely inspiring owning a little shop on the web. Whether you own a store currently or if you're still researching I wish you the best on your adventures.
Etsy vs Big Cartel Articles
Looking for more articles and information before you make a decision? Check out these other articles/posts I found on the same thing:
Big Cartel or Etsy?
Etsy vs Big Cartel: The Business of Handmade
Guide to Setting Up Shop Online
Why I chose Big Cartel over Etsy
Let's Talk Etsy vs Big Cartel
Moving Shop / Etsy vs Big Cartel
Why I moved from Etsy to Big Cartel
Etsy vs Big Cartel – How to choose?
Four Venues to Sell Handmade Goods