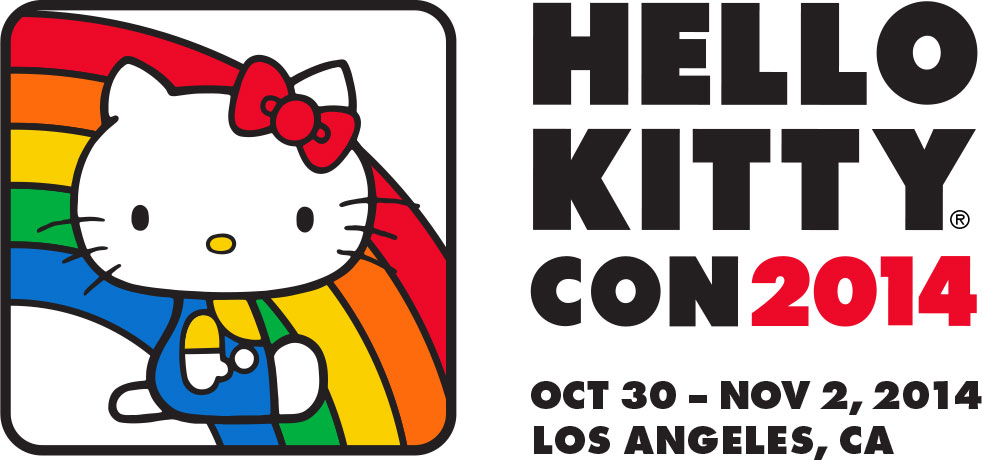 Miseducated was invited to a media preview and opening party of the 2014 Hello Kitty Convention for Hello Kitty's 40th Anniversary located at The Geffen Contemporary at MOCA (The Museum of Contemporary Art) in Downtown Los Angeles on October 30th – November 2nd. I was a little hush hush about this because I wasn't sure if I would be able to make it but it ended up being right time, right place, free flight. So alas we are very excited to feature this event because, as you know, Kitty is my absolute favorite character! I can hardly read the below information without going into a whirlwind of heart-pounding glee. See you there?
This milestone event will place Hello Kitty fans at the center of the ultimate interactive experience, inviting them to immerse themselves in a never-before-seen environment where the world of Hello Kitty is celebrated, explored and experienced. Tickets for the highly anticipated Hello Kitty Con 2014 are available to purchase now at Sanrio.com.
Designed for enthusiasts from around the world to come together and celebrate all things Hello Kitty, Hello Kitty Con 2014 will present a full lineup of activations ranging from integrated workshops, lectures and panel discussions; special appearances and signings with Hello Kitty head designer from Tokyo Yuko Yamaguchi and more special guests from Japan; to interactive art installations and daily artist signings; the Hello Kitty Friendship Station Pop-up Shop offering convention exclusives; the Hello Kitty Super Supermarket featuring a curated selection of vendors offering products and experiences available only at the convention; a Hello Kitty retrospective and vintage shop selling rare collectibles from the past; product and collaboration previews; a tattoo shop; photo opportunities, and much more. Hello Kitty will be on hand for special appearances and to hug fans as part of her global Share a Hug with Hello Kitty! campaign throughout the four day extravaganza. The Hello Kitty Con ticket also includes free same-day admission ($20 value) to Hello! Exploring the Supercute World of Hello Kitty, the Hello Kitty exhibition at the Japanese American National Museum, as well as many more free activities and goodies. "Hello Kitty Con 2014 is a testament to Hello Kitty's remarkable ability to connect with people of all ages and backgrounds in many ways, on many levels," said Janet Hsu, President and COO of Sanrio, Inc. "It is a celebration of community and a labor of love for Sanrio, and we are thrilled to share this experience with fans." Celebrating more than 15 years of partnership, Target is teaming up with Sanrio to offer fun, interactive and immersive activations at Hello Kitty Con 2014. To kick-off the convention, Target will co-host the VIP preview event on October 29th, where attendees can take photos with Bullseye and have exclusive access to game stations and prizes. Passionate Hello Kitty fans can visit "Hello Kitty & Bullseye Adventures presented by Target" during the convention to experience a visual and physical narrative that follows Hello Kitty and Bullseye through a series of fun activation areas.
Sanrio and Target will offer limited-edition, co-branded product available only at the convention. A further offering of exclusive Hello Kitty 40th Anniversary product – from apparel and cosmetics, to accessories and toys – will be available beginning September 14th at Target stores nationwide and at Target.com. Hello Kitty Con 2014 will also offer fans the following:
DISCOVERY: Hello Kitty-fy your life by participating in workshops on Hello Kitty scrapbooking, flower arranging, nail art, DIY jewelry making and more; panel discussions on topics ranging from Hello Kitty super fans, Japanese pop culture, Lolita culture, Hello Kitty as muse and more; and lectures featuring a first time Q&A with Hello Kitty head designer from Tokyo Yuko Yamaguchi, Simone Legno, artist and creator of the tokidoki brand; and Dr. Christine Yano, co-curator of Hello! Exploring the Supercute World of Hello Kitty; among others. Tickets for workshops are on sale now at Sanrio.com. Panels, lectures and signings will be handled on a first come, first served basis.
EXPLORATION: Stroll down memory lane in the Hello Kitty Product Retrospective showcasing classic vintage products — including the first Hello Kitty product ever created, the original Hello Kitty coin purse (on display for the first time in the U.S.)! Stroll through Hello Kitty's Friendship Village and visit the Hello Kitty House to discover a life-size home decorated in Hello Kitty inside & out and wander through various Hello Kitty photo opps.
SHOPPING: Pick up limited edition Hello Kitty Con exclusives, special items from around the world and collaboration products in the Hello Kitty Friendship Station Pop-Up Shop; sift through authentic, rare, collectible Hello Kitty products in the Sanrio Vintage Shoppe and visit the Super Supermarket for exclusives, limited edition products, gifts and goodies from special Sanrio partners & collaborators including SEPHORA, JapanLA, Loungefly, Dylan's Candy Bar, SPAM® Brand, Major League Baseball, Chan Luu, Perfect Square/VIZ Media, Upper Deck, and many more.
ART: Enjoy interactive art installations and photo ops created by artists POSE and Dabs Myla; and instruction from artists Camilla d'Errico, Esther Kim, Dabs Myla, and Martin Hsu, who will be on hand throughout the four days to lecture & teach Hello Kitty Art Classes. Five leading tattoo artists have created custom flash artwork & will offer FREE (real!) tattoos at the Hello
Kitty Tattoo Shop – throughout the convention, on a first come, first served basis. Sanrio Tokyo's resident nail artist and Hello Kitty Nail Art book author Masako Kojima will be on hand giving fans a chance to Hello Kitty-fy their nails. The JapanLA Art + Fashion Shop will feature super limited art prints, figures and artist tees from favorite artists including 64 Colors, Buff Monster, Crowded Teeth, Joe Ledbetter, Miss Kika, and more.
FASHION: Check out super fantastical Hello Kitty fashion on display at Lovely Kitty Wonder: A Hello Kitty Fashion Installation curated by Stephiee Nguyen of JapanLA Clothing. See one-of-a-kind creations by 13 designers from all over the globe including Ophelia Overdose, Abigail Greydanus, amorir, Fiori Couture and dolleyes.
FOOD: From Hello Kitty sweet treats to L.A.'s yummiest food trucks, there is no need to leave Hello Kitty Con when your stomach is rumbling.
FUN: Ticket holders can enjoy free activities including crafts, games, giveaways, a Hello Kitty pumpkin patch, photo booths, special sneak peeks at upcoming Hello Kitty projects, and many more superfun surprises throughout.
SOCIAL (#HelloKittyCon): Fans can stay connected with all things Hello Kitty Con through a variety of social elements aimed at both convention goers and those not attending the event. Hello Kitty's millions of Facebook, Twitter and Instagram friends can share photos and access contests and behind-the-scenes footage to connect with their Hello Kitty fan community.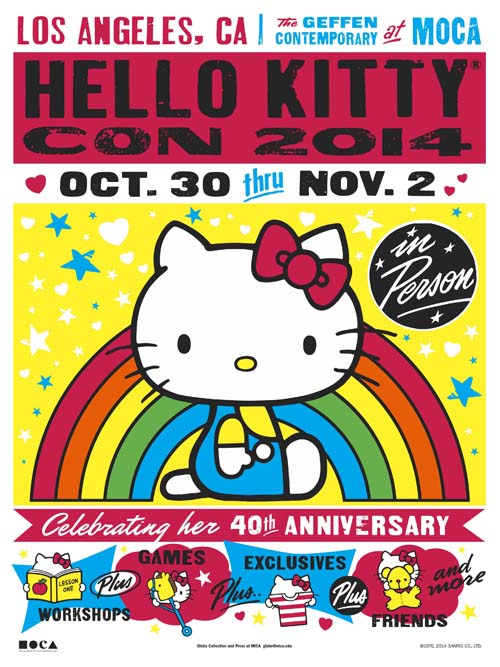 Sanrio will also host a contest giving fans a chance to win a VIP trip to Hello Kitty Con 2014. Hello Kitty Con 2014 will run concurrently with Hello! Exploring the Supercute World of Hello Kitty, the first ever Hello Kitty museum exhibition in North America, taking place across the street at the Japanese American National Museum (JANM) from October 11th through April 2015. Hello Kitty Con ticket holders will have access to the museum exhibition, where they can explore a retrospective of rare and unique pieces from Sanrio's archives and an art exhibit featuring 40 mixed-media works by contemporary artists, throughout the duration of Hello Kitty Con.
Tickets for Hello Kitty Con 2014 are available for purchase now on Sanrio.com. Further details and updates on Hello Kitty's 40th Anniversary celebration can be found here, where fans can visit throughout the year to stay connected and informed about Hello Kitty Con 2014, Hello! Exploring the Supercute World of Hello Kitty at JANM, exclusive products and more.