You can imagine my excitement when macaron cookies finally starting picking up steam. Now they can be found in bakeries around Indianapolis (and most cities around the USA, at that!) so there's no need to travel to Paris or order macarons online. Hurrah!
Also, because the macaron is such a fun cookie to experiment with, you can find such an array of flavors, colors and styles! I saw everything from tie-dye, to unicorn-shaped, to sparkly golden macarons in every flavor you can imagine — even tequila! (Rene's Bakery)
I'm not only going to show you our adventure on this day, but I'm also going to tell you the top bakeries to get macarons in Indianapolis! Please enjoy~
Macaron Ratings:
In order from 5 star ratings.
Rene's Bakery: Pineapple – Not only was this a new flavor for me but it tasted tart and amazing. The texture was sport on — the shape was a little unique (it was very rounded) but I will be going back here for more. They also had the most unique flavors: grape, tequila, pineapple, mango, etc. Yum!






Luxury Cakes: Orange Blossom – I loved the flavor AND the creme. It was more of a whipped cream ganache and I enjoyed every single bite. It was stuffed with creme!





Macaron Bar: Earl Grey – I love earl grey and so tea-flavored macarons are always a favorite. Great texture, chewy and delicious.





Coat Check Coffee: Fruity Pebbles – I'm sure I am biased but the flavor was amazing, the macaron was the cutest of all and it was a perfect texture.





Cake Bake: Pink Marshmallow – The prettiest macaron. Glittery, perfect shape. Tastes like a traditional macaron. If you really love macarons you must get the Marie Antoinette, it is my absolute, world-wide, favorite macaron.





Circle City Sweets: Raspberry Rose Champagne – Very tasty with both fruit filling and ganache. Great, traditional macaron.




The Gallery Pastry Shop: Matcha – I love matcha as a flavor and the macaron was a very strong matcha. I hate when I cannot even taste it! It was another traditional, lovely macaron.




HoiTea ToiTea: Confetti – For one, they call them macaroons which is a totally different cookie. The macaron wasn't exceptional in flavor but it was very cute because it was dipped in sprinkles.



Bites: coffee, dessert, bar.: Blueberry Waffle – I enjoyed that the macaron was filled with fruit jam AND ganache but it was bland. I was hoping with the flavor I would be able to taste it but not so much. A little too crisp.


What is Macaron Day?
Macaron Day is a chance for macaron lovers to taste delectable French macarons from various bakeries while also supporting local charities in participating cities: Cincinnati, Indianapolis, Louisville, Pittsburgh and Toledo. By mentioning Macaron Day at any of the participating bakeries and you'll receive a complimentary macaron while supplies last.
– Official Macaron Day Website
Participating Indy Bakeries:
Circle City Sweets | 222 E Market Street, 46204
Macaron Bar | 425 Massachusetts Avenue, 46204
Coat Check Coffee | 401 E Michigan Street, 46204
HoiTea ToiTea – Broad Ripple | 6283 N College Avenue, 46220
The Gallery Pastry Shop | 1101 E 54th St G, 46220
The Cake Bake Shop | 6515 Carrollton Avenue, 46220
Rene's Bakery | 6524 N. Cornell Avenue, 46220
HoiTea ToiTea – Keystone Mall | 8702 Keystone Crossing, 46240
Luxury Cakes | 254 Veteran's Way, 46032
Bites: coffee, dessert, bar | 640 S Main St #100, 46077
Macaron Fan?
Love macarons as much as I do? I also took along my macaron kitty pins and necklaces to give to some of my favorite stops as a thank you. This pin was made in collaboration with ALTLiAE who is an all star leatherworker and macaron baker in Indianapolis. She wanted a mascot macaron pin so I created this little kitty for her! You can get your own pin or necklace for a limited time in the Miseducated Shop.
Want to collaborate on your own mascot pin to promote your business? Let me know!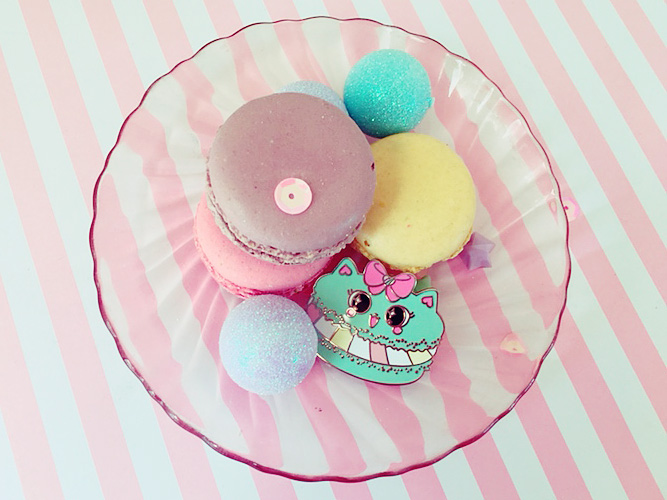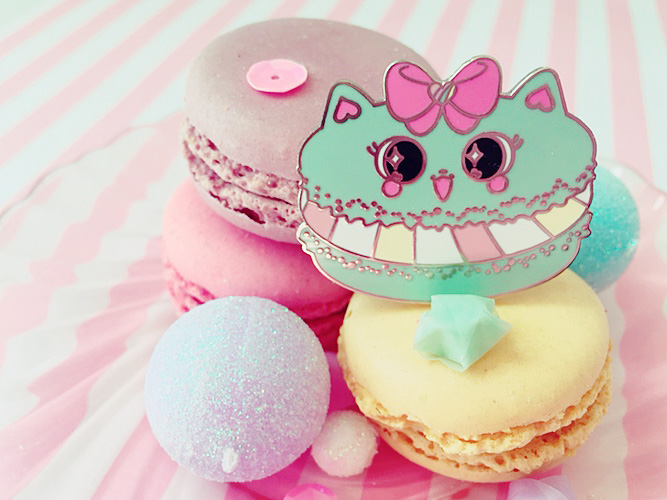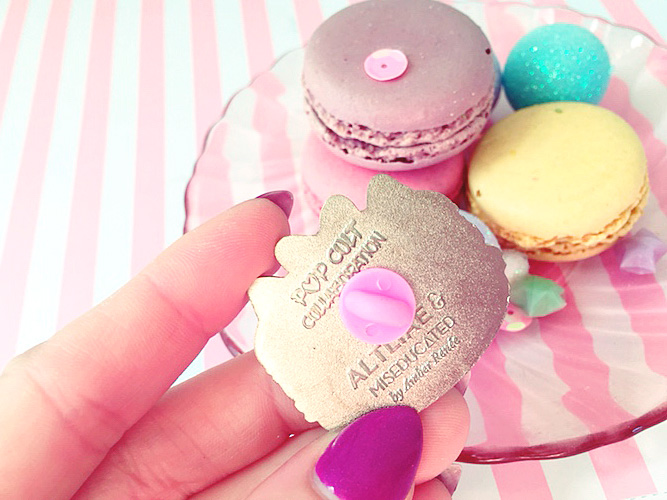 Haha — I just had to insert my chicken, Macaron, and rainbow-fy the official poster!