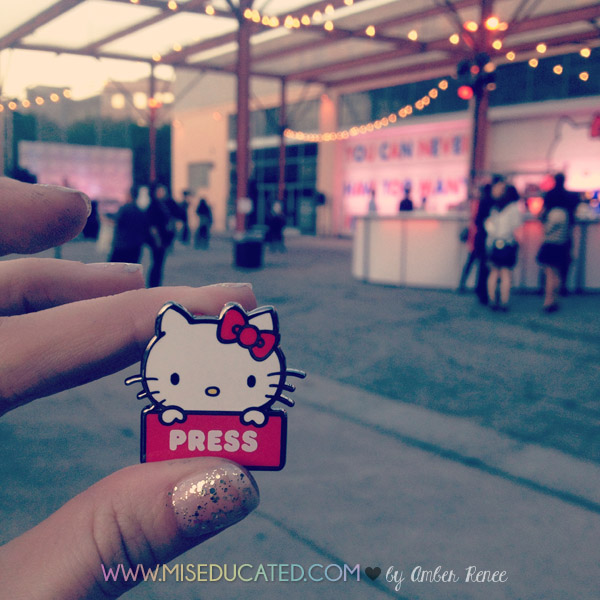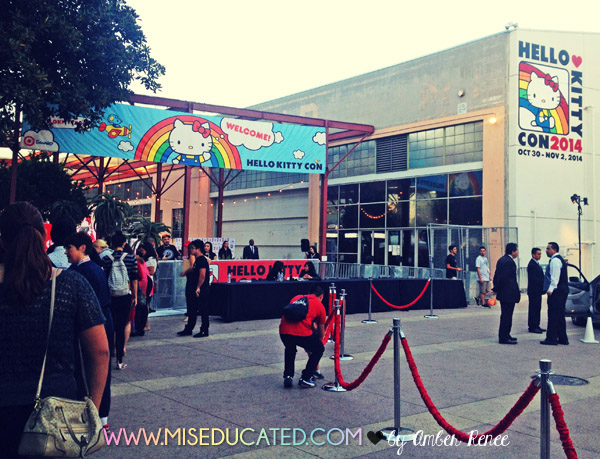 Well… although I had just had a major surgery I felt that it was important for me to push myself out of the nest aka laying in bed in pain because, hey, it had been long enough. It's time to force myself to be myself again and stop wasting away on the occasional apple slice. So I figured I'd heal with a bang and off I went to LA!
I must say the airport customer service was amazing to wheel me to the plane, THANKS DELTA. I would have been extremely slow moving and in considerable pain but would still have made myself walk had they not offered to wheel me around. I was so shocked at the amount of customer service I received just because my stomach was stapled!
So I arrived in LAX and felt a bit sad my best friend Kimi would not be waiting for me as she is every other flight (it was a super quick business day week trip and I couldn't stay through the weekend) but I was still extremely happy to be back in the California sun and air and meet up with my Indy friend who arrived a couple days earlier.
I slept decently in a lovely home overlooking LA being watched over by the Hollywood sign and the next day we were off to the beach and to explore areas we hadn't explored before. I never get to go to LA for tourist attractions so we went to Venice, Little Tokyo and other assorted neighborhoods. Her brother Danny Detox lives there and is in the band The Ex-Gentlemen so we also ended up a few other places to meet him.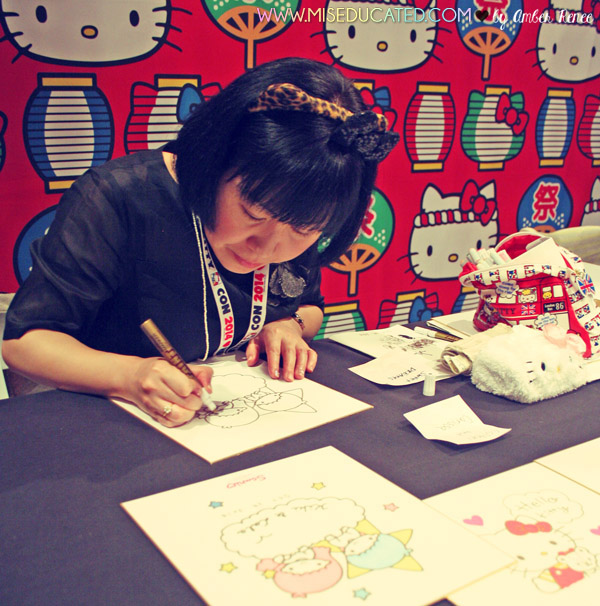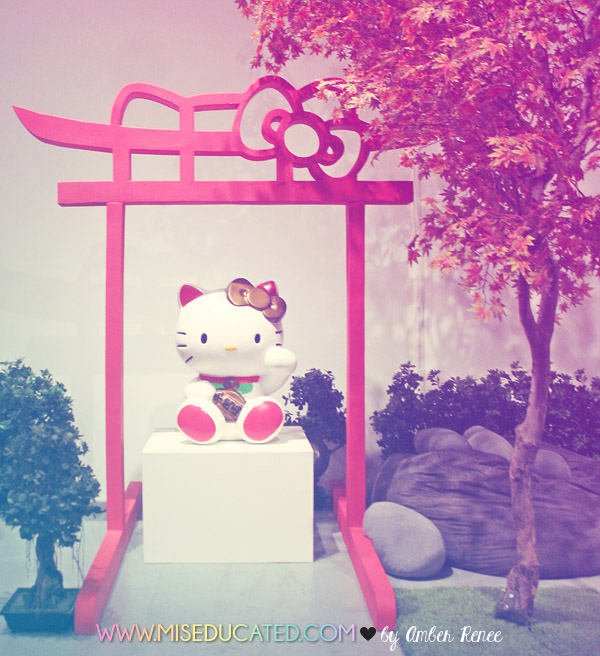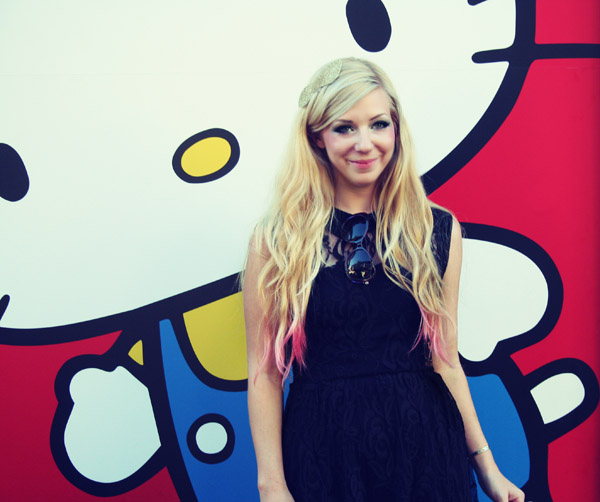 The last evening there was the HELLO KITTY CON 2014 aka the first Hello Kitty Convention ever in the United States. Miseducated was invited to the Press Event and VIP Opening Party so off I went to snap a huge stack of photos and gather goodies to feature!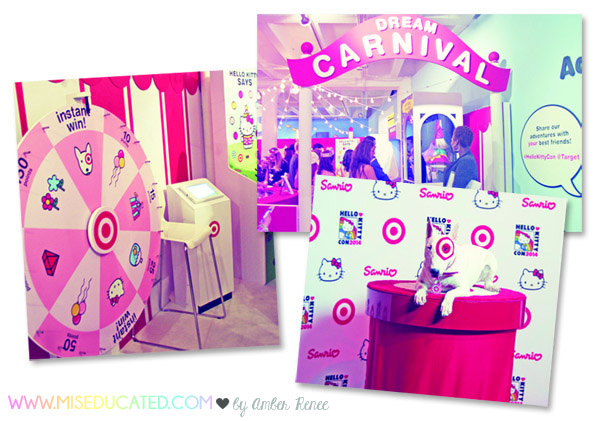 I must say I filled up my SLR as well as my phone camera with many more photos to take! I did get tired early due to my surgery but I met some new and old friends (was very impressed with Stephiee's work on the fashion installation, it made my eyes bleed holographic glitter and several of the outfits glittered back begging to come home in my suitcase), filled up all of my cameras, got media packs and enjoyed connecting with Christina of California Focus Magazine.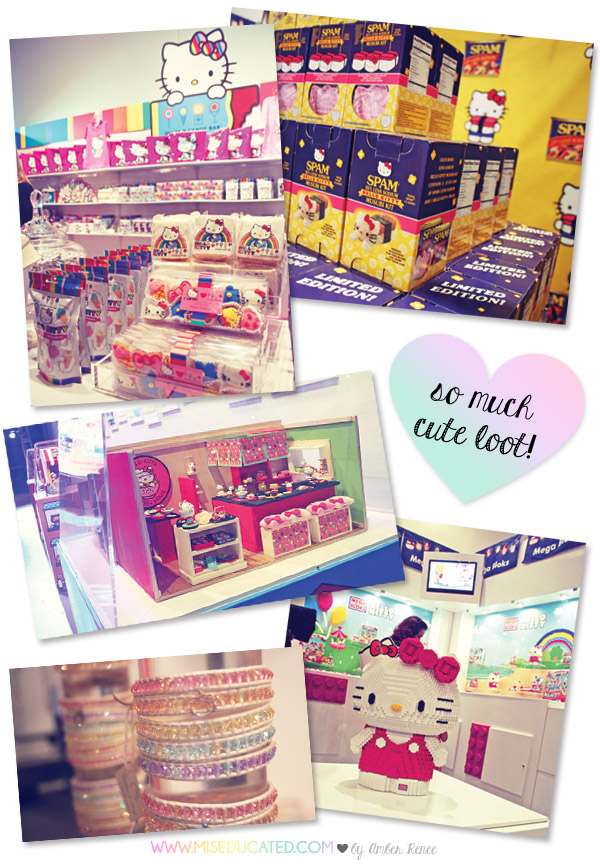 As I said above, Lovely Kitty Wonder: A Hello Kitty Fashion Installation, was a very-impressive eye-candy-filled feature curated by Stephiee Nguyen of JapanLA Clothing. With shockingly sweet creations carbonated with cute couture by 13 designers including Ophelia Overdose, Abigail Greydanus, a-morir, Fiori Couture and Doll Eyes, it was a no-miss.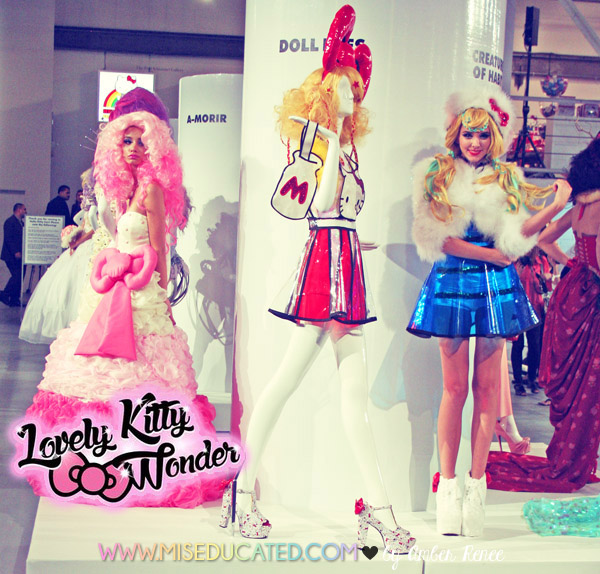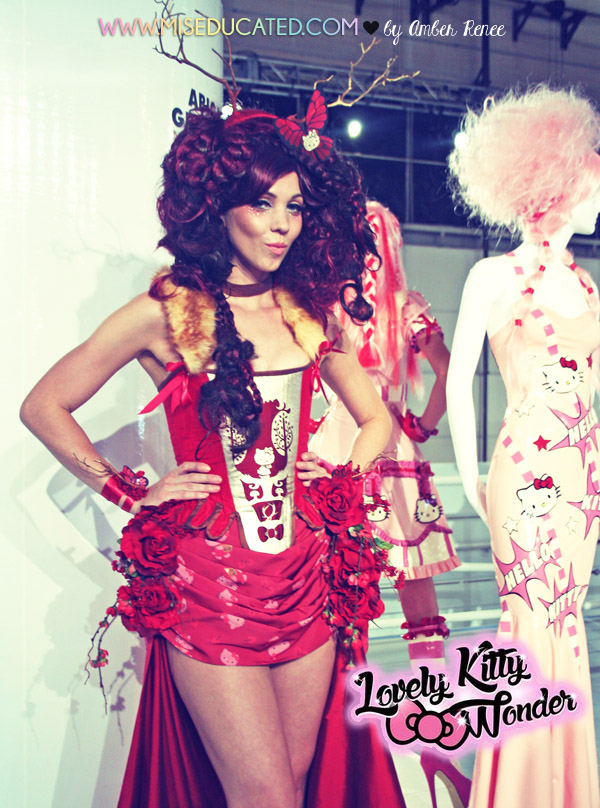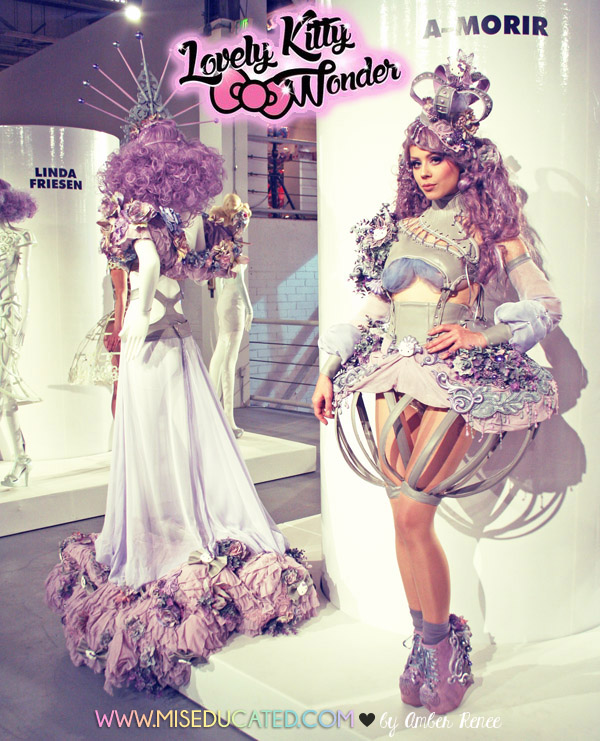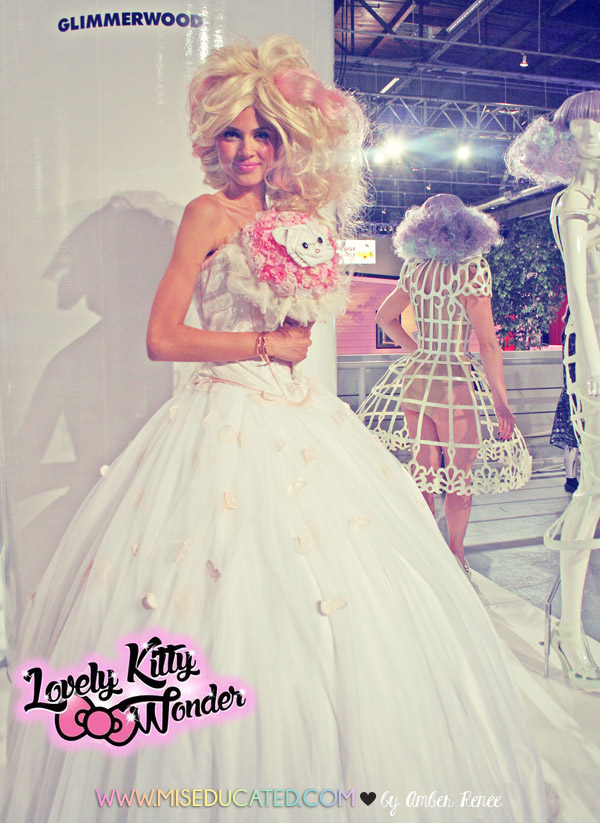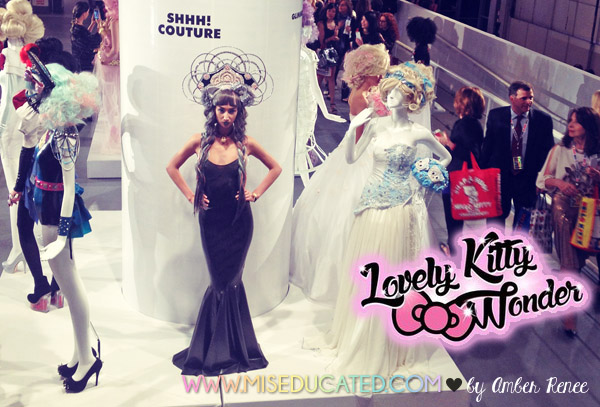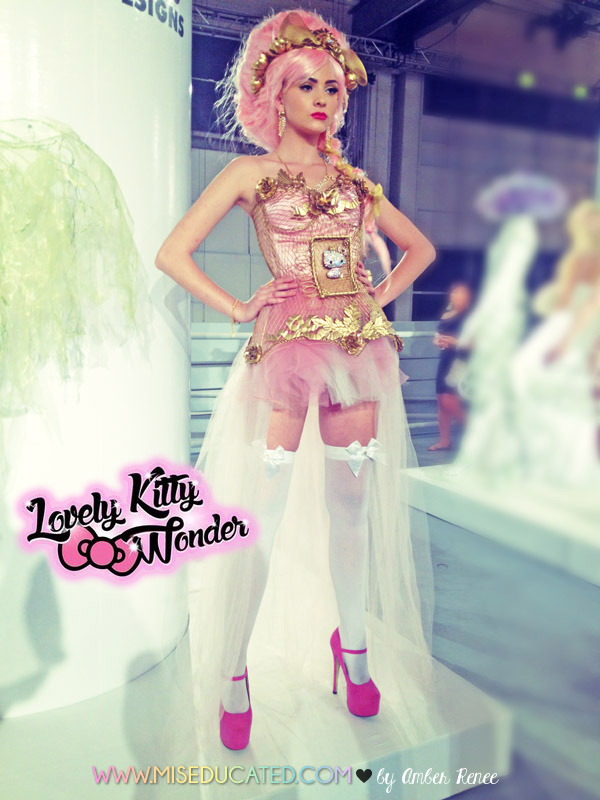 Did you know there was even a FREE tattoo parlor? Not enough to inspire this non-tattoo kind of girl to get a tattoo but such a wonderful idea! I genuinely thought about getting a Kitty holding Colette's name. Sadly I was not able to take advantage of the amazing, free ink artists due to my indecisive and tattoo-less nature.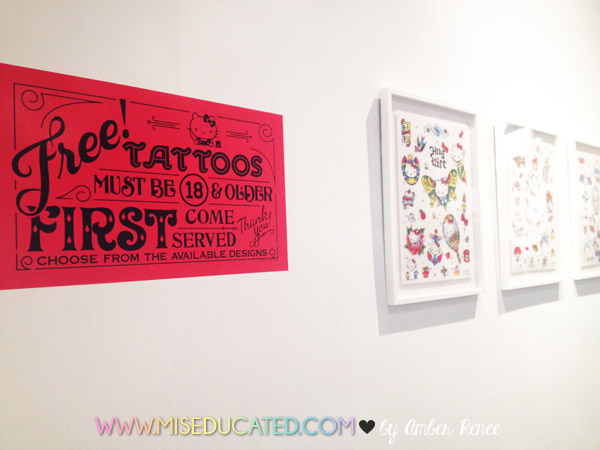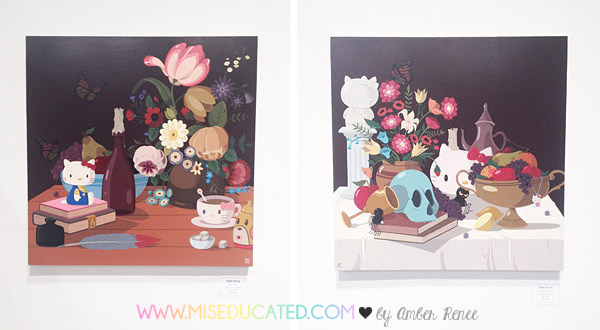 I couldn't help but take quite a lot of photos of these amazing paintings (and ceramics not pictured!) by Dabs Myla because my Mister is a contemporary realism artist that paints still lifes and creates ceramics so I felt it would be the utmost importance for him to see a Hello Kitty still life and tea set in all of their glory.
I must also say the place that gave me the biggest heart throbs was the vintage shop with actual vintage items for sale and a lot of old Sanrio photos. I also almost gagged on glory as I tried on the Hello Kitty x Chan Luu Kitty Con limited rainbow crystal jewelry finding myself unable to leave without them. As when I went to Puroland, a few tears came out for my childhood superstar. They even had my 80s Kitty TV! Sadly I did not get a chance to look at the price. I was trying to get a good collection of photos and explore everything before everyone else showed up and started crowding in. So please enjoy! I can't very well explain it well enough to do justice, this was all for the photographs baby! It was just the event to push me out of my pain induced coma to go into a happy induced daze that reminds me what I'm doing and why.
Near the end of the VIP party (and after my backpack was filled to the brim with Kitty White goodies) off I went to have dinner in Little Tokyo with my dear friend Emma.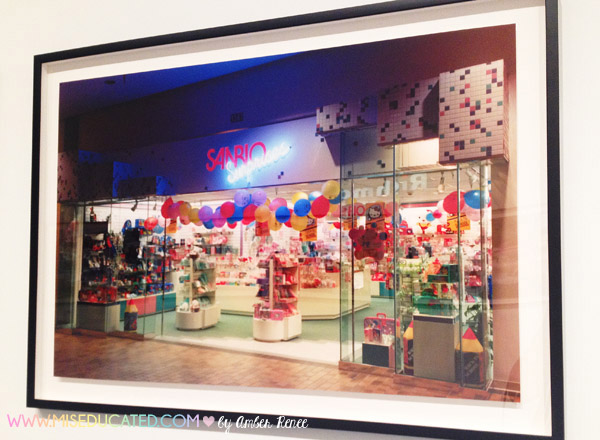 Did you get to go and what was your favorite part if so?? Maybe next time we can meet for a rainbow donut and a cup of blooming tea!