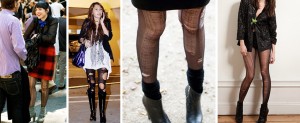 Ripped tights are pretty popular right now and it's no wonder — they instantly add a punky, ragged feature to your look and they're easy as pie to make! Grab a pair of tights, old or new, and follow along to achieve that ripped look.
Create Large Holes
First I used a lighter to create holes that wouldn't run, the fire actually burns the nylon and creates a seal. For holes and rips that wont run use a lighter or stick of incense. Softly touch the fabric and the hole will become bigger. Be careful if you're wearing your tights while you're burning them, nylon can drip onto your skin and permanently scar!
Create Runs
To create runs in the stockings you'll need a pair of sharp scissors. Carefully make small vertical snips and drag the scissors up against the cut to make a run. To seal runs so that they stop use a lighter or a tiny dab of clear nail polish.