When I first talked with Aunty Yochana I was absolutely charmed, her appreciation for food (namely sweets!) and the aesthetic decadence of it was so inspirational. Always having been addicted to sweets and cuteness (my sweet tooth is deadly!) I was immediately drawn to her and her love of expressing herself by creating mouthwatering masterpieces.
I couldn't wait to know her secrets and of course I had to ask if I could share them with you as well, with these on your cake platter (don't forget to adorn with raspberries and macarons as well!) you'll make quite an impression. Tea party anyone?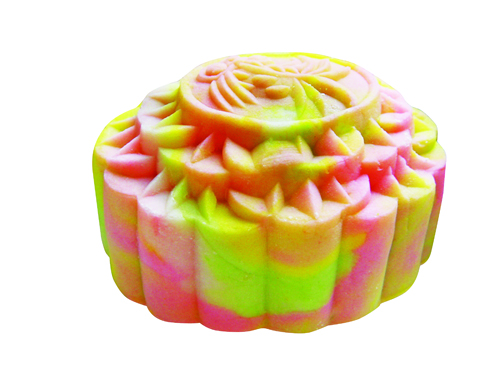 Ingredients
90 gm. fried glutinous rice flour
10 gm. wheat starch
30 gm. shortening
40 gm. powdered sugar
200 gm. ice-cream soda or 7-up
a little pandan (green), pink and lemon yellow food coloring
Filling
600 gm. lotus paste
30 gm. melon seeds
* convert grams here
Method
1. Sift the glutinous rice flour and wheat starch into a mould.
2. Add in icing sugar and shortening and mix till thoroughly mixed.
3. Pour in ice-cream soda and mix into a soft pliable dough.
4. Divide dough into 4 portions. Add colouring to each portion, leaving one portion white.
5. Place each dough between plastic sheets and roll into a rectangular flat piece of the same size. Stack the dough on top of one another, then roll into a swiss roll.
6. Cut into 6 equal pieces. Divide the lotus paste fillings into 6 portions.
7. Roll the spiral part into a flat piece and wrap with lotus paste filling. Press into a mooncake mould then knock out.
8. Chill before serving.