This perfect summer craft originates from the Bahamas and other tropical places where they are blessed with beautiful sandy beaches. Die-hard jewelry makers will use just about anything to make jewelry with, even the beach itself! If you are lucky enough to live by the beach and have access to any department store or craft store, then you can make your own sand beads from scratch. It is a bit time-consuming to roll and shape all of your own beads, but its worth it in the end when you have tons of colorful beads to make all the jewelry you want!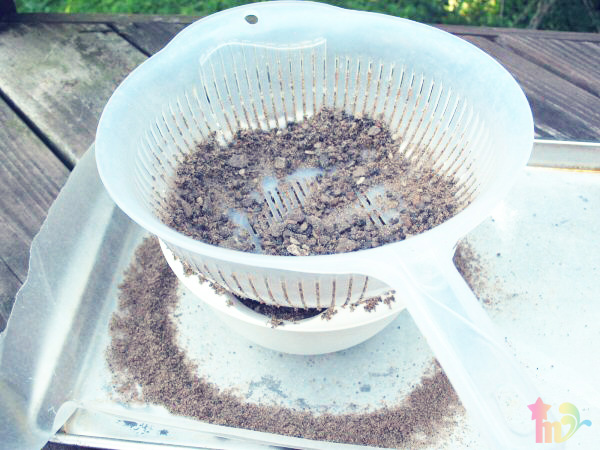 You Need

Fine sand (from the beach or from the store)


All purpose flour or papier-mâché


Elmer's Glue


Wax paper


Vegetable oil
If you got your sand from the beach, sift it through a cheese cloth or a window screen to separate the larger grains from the fine stuff. Pour the fine sand into a bowl and mix in the flour or papier-mâché and mix it together well. You need to use equal amounts of flour and sand. Coat your hands lightly with vegetable oil so the sticky paste that you're about to make won't stick to your hands. Pour in your Elmer's Glue slowly and knead it with your hands like bread dough. If it starts to harden before you're done mixing, add more glue. If your hands get too crusty as you work, rinse your hands off and apply more oil. Also, if you are using beach sand and you want to add color, mix in some acrylic paint.
Break off pieces of the sandy dough and roll them into your beads. This is where you use your imagination to create the beads you will use for your jewelry. Make many different colors and sizes, or make a series of the same kind for a long beaded necklace. You can also make short tube-shaped beads, square ones and irregular shaped beads.
Set your beads on a piece of wax paper and let them dry overnight. Use a large sewing needle or any other sharp metal skewer (be careful!) to poke a hole through the middle of each bead. You need to do this while the beads are still slightly tacky, but not so soft that you squish the bead. Let them dry all the way.
Coat them with clear acrylic varnish to make them glossy and protect them, if you want. Now you can make your homemade jewelry for yourself and your loved ones!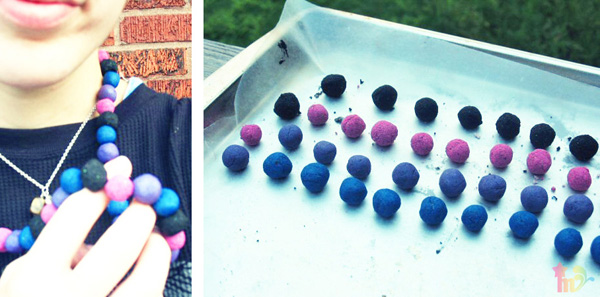 More Ideas

Substitute half of the sand (or less) with fine glitter to make sparkly beads.


Swirl different colors of the sandy dough together to make multi-colored beads.


Make beading kits with your left-over sand beads and give these kits away as gifts.


Add other natural beads like shells and tiny pieces of drift wood to make a real beachy necklace.


Sell your sand bead jewelry to people at the beach.