Maria is a wonderful and talented little lady that's taken vintage and whimsical collages or imagery and used them as a design element for jewelry and oh-so-cute accessories. Locketship pendants are as unique as you might think and their aesthetic is magical, dainty and sweet!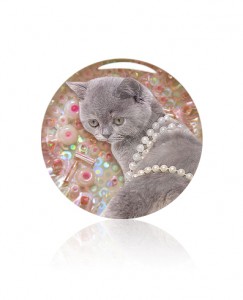 Locketship is the brainchild of Maria Ewing-Estrada, and like the designer herself, puts a new spin on a classic. Unlike the original locket, which hid its contents, Locketship pendants share their feelings with the world.

All Locketship jewelry is handmade by Maria and her husband Aaron in their Los Angeles home. High school sweethearts, the two married soon after graduation and began melding Maria's creativity with Aaron's handiwork.
How sweet and inspiring is that?
Miseducated even selected a few of their favorite items that we might not be able to live without.. when we do a photoshoot with her goodies you'll be sure to see how pleased we are with the quality and glamour of her shimmery jewels. I know I couldn't say no to the kitty collection! She knows my weakness! 😉
Our Picks