As is pretty obvious by my own work and features here, I am involved in and very supportive of the Pop Surrealism movements in Los Angeles and Tokyo. Having seen Camilla d'Errico's work at Hello Kitty's 35th VIP Aniversary Party in LA I just had to promote and feature her work and really wanted to understand a little bit about what makes such a beautiful mind, as communicated on canvas, tick.
How long have you been painting?
I've been painting (exhibiting) since 2005.
Did it ever become your main focus?
No, painting has never actually been my main focus, though it took center stage in 2007-2008. I'm a comic book artist, first and foremost, but after I first started showing in galleries, and my work was well loved, I was propelled into the Pop Surrealism movement in Los Angeles and I went with it!
What has been your favorite exhibition?
My favorite would have to be the Hello Kitty 35th Anniversary show in 2009. It was fabulous and so many artists interpreted Hello Kitty (I love HK btw) and it was a very well organized and fun show.
What inspires you most?
I'm mostly inspired by manga and anime.
What has been your favorite painting you've created?
No Ordinary Love because it has very special meaning for me. It's about love, and not giving up on love, but holding onto that hope so dearly … until you are able to be reunited.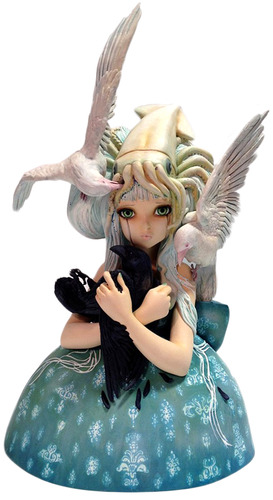 Do you have any crazy stories about one of your pieces?
It's not crazy, per se, but I find it hilarious. My painting, Mountainhead, is a Helmetgirl with the biggest helmet you've ever seen. There are bits and pieces of everything on that helmet, completely overpowering her small frame. I painted that for my sister AdaPia because she is always thinking, plotting, planning. In fact, she's my business partner! So I always like referring to her as Mountainhead.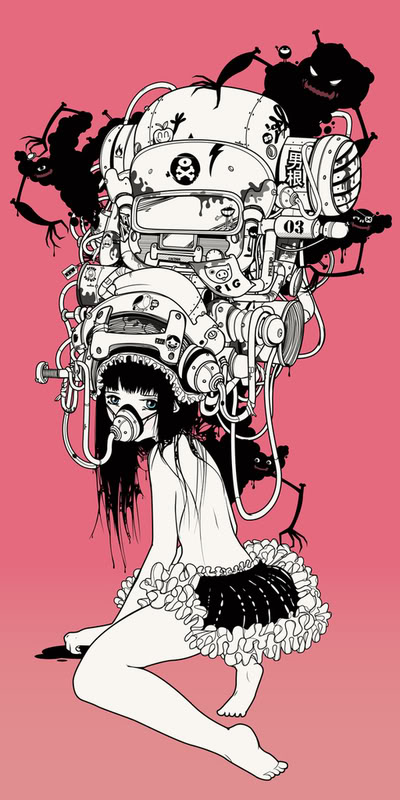 Favorites
Color? teal
Food? steak
Animal? pug
Music? really into Dubstep right now
Magazine? Shojo Beat
Movie? Spirited Away
Do you have any advice for readers interested in turning their hobby into their main focus?
It takes a lot of determination, focus and willpower to move from hobby to professional. I suggest doing a lot of research about the specific artistic field you want to go into. That's easy nowadays with Internet, but it's good to also meet people in person – go to galleries, talk to the curators, owners, directors. Get a good feel for what's going on. Also, make sure you know and define your own style. Be confident and comfortable with what you are creating. And in the beginning, it's always a good idea to start slowly; don't leave your 'day job' until you've built up a good client base or a collector base. And never give up, even when things seem bad; it's just a learning phase and you'll come out stronger.
What do you feel is a recipe for success?
Skill + talent + passion + determination + work ethic and a good dose of people skills!
Are you Miseducated?
Totally! When I was growing up, and even throughout college, everyone tried to persuade me not to go into comics because it isn't a lucrative career. It's barely enough for anyone to live off of, unfortunately. But I was obstinate and I wanted to be a comic artist above all else and I persisted in my dream. So first of all, I'm Miseducated because I didn't do what I was told would be best for me, and also because I'm a self taught painter. Some of my fine art teachers told me I had no skills as a painter, no style … and as much as I am humble, I do get a kick out of knowing I've proven them wrong!
Gallery