It's been quite a busy week and there's still so much to do before this weekend. I'm excited to tell you that I have fashion tutorials and possibly even some video tutorials coming for you very soon! I've also been working on several collaborations and I cannot wait to show you the results. Some great artist interviews are on the way with Kim Ripley of stoopidgerl and pop surrealist painter Camilla D'Errico. Wee! We also have a great load of new sponsors ready to support Miseducated in the coming months. (Email us if you're interested in more information about advertising here.)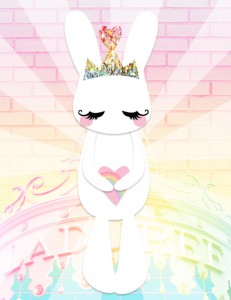 This is the Bunny Queen in her palace.
Lately I've been up to a lot whole lot of working and mothering. I'm just trying to catch up and keep my head above the water. I've also been doing a whole lot of loving, which is obviously really important. Don't forget to tell everyone you love that you care because there's nothing like giving and receiving love. Especially right now.
Trying to keep positive and actually getting the apartment organized and clean.. I have company coming soon and I need to do a top to bottom spring (summer!) cleaning. I'm so looking forward to it! Now if I could just start and end somewhere besides the litterbox… I can't seem to get past it. Keeping up with everyone's (Colette's, Hobbes's, Wanwan's) poop schedules all day long is daunting!
Have you been keeping cool?