I met up with Brandi of Cookie Party lately and got oh-so-inspired on some new DIY projects. She offers DIY supplies for fashion design and accessories and her products are used by an array of indie designers.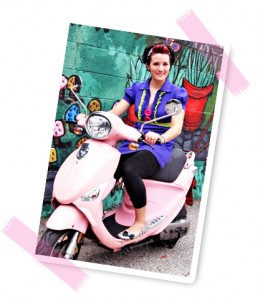 "I am totally a Miseducated girl! Cookie Party is all about supporting and promoting creative d.i.y-ers and is proud to be a part of the d.i.y. movement! Cookie Party was created for d.i.y. designers who consider their styles punk, kawaii, rockabilly, goth, or otherwise unique and unconventional! I myself have always found it difficult to find interesting fashion design supplies like lime green stretch lace trim, zebra print knit fabric, and jumbo plastic buttons. I knew I couldn't be the only d.i.y. designer that just wanted one awesome place to go to get the fabric and embellishments needed to create one-of-a-kind fashions. The products I select for Cookie Party I personally use (probably a bit more than I should).
As far as the name, Cookie Party, well who doesn't love a good old fashion cookie party, am I right. I'm not one for conventional names and labels so a name like "Brandi's Fabrics" or "Fabric Mania" just didn't sound like as much fun. I literally love cookie parties, usually consisting of friends, cookies, coffee and if we're lucky a kitty or two! So the name is affirmative, original, and makes you happy when you say it!"
xoxo, Brandi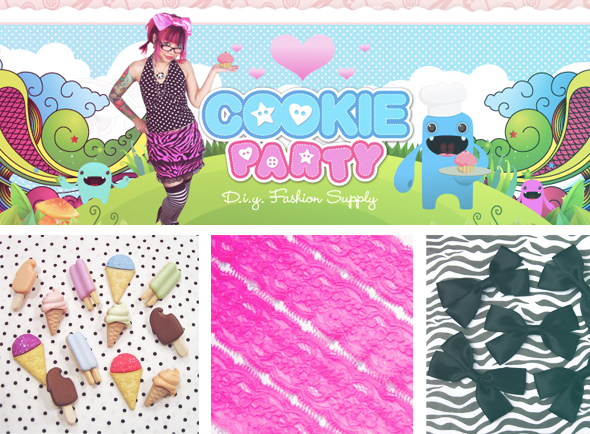 Recycle your T-Shirts and get Started!
Want to start DIY-ing your own fashion but don't know where to start?
T-Shirt Underwear at SuperNaturale
T-Shirt Wedding Dress at CRAFT
T-Shirt Baby Pants at Rookie Moms
The Fitted Tee at Squidoo
T-Shirt Surgery at Tree Hugger