Oh my Florida, pan handle! Nearly surrounded by beaches and golden balls of sunshine on orange trees. The sunshine state is also the kitsch capitol of the world. "Florida is the land of pink flamingos, bathing beauties, palm trees, coconuts, and beaches."
MIA aka Miami is the city of delicious candy-coated, art deco cafes, shops and hotels on the beach. "Miami is an international city. It's not only the business capital of the Caribbean Islands, but also a playground for wealthy European, Central American, and South American travelers. Miami attracts more foreign visitors than any other U.S. city."
There are so many fabulous beaches in Florida that you can find something for everyone. Whether you're looking for a tropical getaway or a party beach, you can find the perfect spot on the sand (or rocks/tide pools) for you.
Key West, Florida Keys
Cat circus, cute-neighborly bars on the ocean, cotton-candy coated homes and kitty cat mosaics hidden within even the drugstore's architecture. A favorite paradise.
"The Florida Keys are famous for harboring such historical luminaries as playwright Tennessee Williams, novelist Ernest Hemingway, and bird-chronicler John James Audubon. In truth, aspiring artists continue to be drawn to the Keys. They come not just for the spectacular sunsets and stunning wildlife but for the free-spirited way of life embodied by the Keys. That spirit is evident at the many festivals and events you will find listed on our cultural calendar. Here you can visit a tiny gallery, take in a community play, enjoy an open-air festival or attend a symphony orchestra. You'll find that the Keys are rich in cultural opportunities. " – Florida Keys
Mmmm! Do you dig the cirtrusy candy-sweet smell or would you prefer just the taste of an orange grove cookie?
Disney World
You get free admission on your birthday and a bit of special treatment, a definite time to book a trip to the happiest most magical rainbowland (besides my home) in the USA.
Coconut Palm Trees
In Miami the fallen coconuts are layed aside with straws stick within their broken shell, sipped dry of their delicious cocomilk (there is a nut inside of the fruit, filled with a layer of white coconut and sweet watery cocomilk) they are left for useless but create a cute visual memento for passersby.
"Coconut Palm is one of the finest Florida Palm Trees. It is native to the Malay Archipelago or the South Pacific. Coconut Palm is also the most recognized palm in the world." – Florida Palm Trees. Coconuts??
Tropical Wineries
Florida has a rainbow of wines from every delicious tropical flavor you can imagine. Just think, orange, pineapple, coconut and key lime wines (similar to a margarita). Yum! Take a look at the assortment of wineries and visit the ones that sound tastiest!
The 1st Oriental Supermarket is the hot spot in Chinatown, 42,000 sq. ft., live seafood, fresh bakery and BBQ products, groceries, herbs & medicines, you imagine it and they probably have it hand somewhere. Other shops through the district include a CD & DVD store, beauty & facial shop, hair salon, travel agency, mobile phone store, karaoke, employment agency, realty company, advertising & marketing company, etc. available to serve you.hungry or in need of a tasty treat, just step into one of the delicious and inexpensive specialty restaurants to enjoy a cup of Boba Tea, some Taiwanese food, Chinese take-out, or even a cat-shaped sweet roll. (also hosts a number of special events to celebrate the Chinese Festivals)
Antique & Thrift Stores
Prime vintage kitschy deliciousness can be spotted everywhere here. One of these reasons is because it's such a sunny, relaxing place to retire, many retirees get rid of their and their collected goodies here. Which leaves for absolute popculture art archeology, as Lala might proclaim.
Cute Architecture & Deco Decor
Cute art deco, salt-water taffy colored wonderland in the sunshine.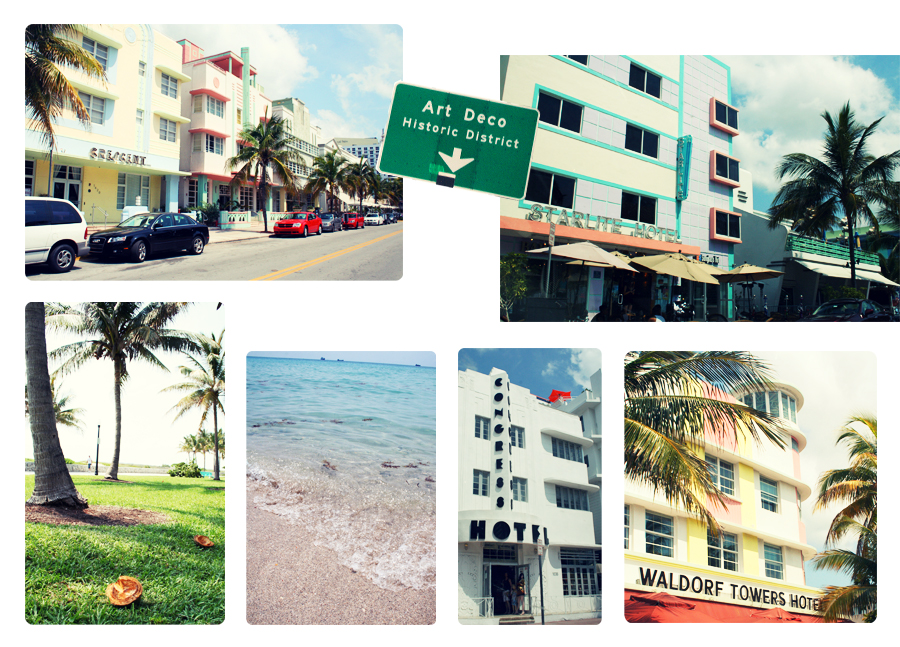 Florida Lifestyle
The Florida lifestyle is generally more relaxed than other rural areas, take it easy. Island living~
More Favorite Florida Fun
Dylan's Candy Bar
Bear & Bird Gallery and Boutique
Carnival Cruise Lines
Everglades National Park — plan a picnic!
Universal Studios
Sanrio Stores SE
Sanrio Stores SW