All of the information about Middie Blythe has been officially released from BlytheDoll.com.
A new sized model for your creations and photos awaits!
Middie (Middle) Blythe is here — but she doesn't have a middle child complex because she has a super cute charm that the other's don't have. She can turn her head to the side!
Not too big, not too small, she's just right!
For everybody who was wondering who Middie Blythe is, your wait is over!
Middie looks slightly younger looking than a Neo Blythe and slightly more grown up than a Petite Blythe.
She is called "Middie" because her size is in between Neo and Petite, but it spells "Middie" instead of "Midi" so it sounds like a cute girl's name.
Her head is table to tilt to the left or the right with eye move technology enhancing her charming gaze!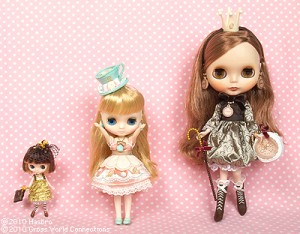 [ Middie Blythe Stats ]
Size (height): About 20cm
Eye color: 1 color (eye direction is moveable from left to right)
Eyelids: Set (do not close or open)
Neck: Moveable to left and right
Arm: Moveable
Waist: Stable (does not twist)
Knee: Stable (does not bend)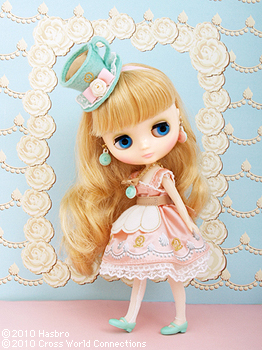 .. and as if you needed any more reason to love and want a Middie Blythe of your own, CWC is releasing an exclusive "Macaron Q-Tea Party" in collaboration with Q-pot.
Check out all the information directly from BlytheDoll.com:
Tea time is the perfect time to retire to the garden for a relaxing escape.
The intoxicating aroma of the flowers in the sunshine fill the air.
The light colors of the pink tea roses resemble the color of sweet Parisian macarons.
Once the treats are done baking we will be ready for our luxurious afternoon tea party, make yourself at home and enjoy this time with us!
"Macaron Q-Tea Party" has a soft and welcoming look coordinated with her sweet and romantic styling.
Her strawberry pink dress is embroidered with the Q-pot. brand, signature "Q" and whipped cream print.
Her apron is light and airy, and brings to mind fresh whipped cream.
Her gorgeous little hat is a little tea cup filled with mint tea!
Like any proper tea cup, it features a beautiful rose and lace motif to make it truly festive for our afternoon tea!
Her necklace and earrings have the signature Q-pot.'s "Q" and are made to look like strawberry and mint green Parisian macarons, how sweet!
She wears lace tights and mint green strapped shoes.
Her hair is a lovely honey blond, and has a slight wave perm giving her a romantic and sweet look.
She wears mint green eyeshadow and has fresh pink lips and cheeks, just right for an outdoor party.
Her eyes are blue and are so inviting and warm.
Her skin type is Very fair.
[ Skin Type ] Very fair
[ Make-up ] Eye shadow: mint green, Lips: blushy pink, Cheek: warm pink
[ Eye Color ] Blue
[ Hair Color ] blonde with a touch of brown (two mixed saran colors!)
[ Earrings ] Q-pot. Brand signature macaron earrings in mint green and strawberry
[ The set includes ] Doll, pink dress with decorative print, apron, tea cut hat, Q-pot. brand signature macaron necklace in mint, Q- pot. Brand signature macaron earrings in mint green and strawberry, tights, mint green shoes, bloomers, and new Middie Blythe stand.
Scheduled release Date: October 2010
Suggested retail price: 14,490yen
Limited to 3500dolls
Blythe Character © 2010 Hasbro, Inc. All rights reserved.
Blythe Character licensee rights for Asia © 2010 Cross World Connections, Ltd.
Photographs © 2010 Junie Moon-CWC