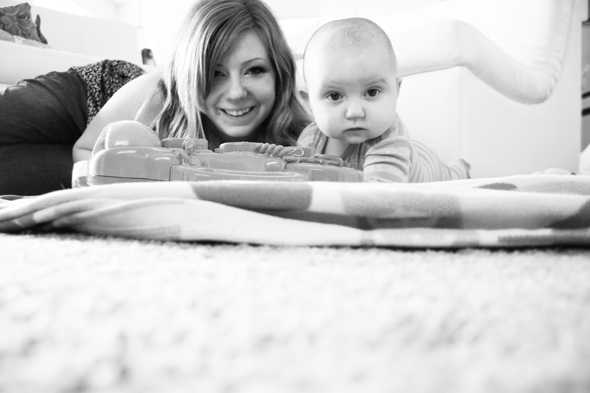 I think it's impossible to prepare for motherhood. No matter how prepared you think you are the actual experience is completely different.
There are many bits of advice I was given about motherhood, the most common one being that "kids change everything." That is the best advice anyone can give you.. kids do change everything.. but you can't really grasp how until you experience it. Now I'm going to give you a little advice I learned from the experience.
1. Life makes sense.
I'm not sure when this realization happens or if it happens for everyone, but the meaning of life seems to change completely upon meeting your child. Things that were once important seem foolish and things that seemed lame are now all the rage. You'll feel that you have a new purpose, possibly much more prevalent than anything you had interest in before.
2. Your body will never be the same.
Your body has changed during pregnancy in very many ways and luckily most of these changes are only temporary.. however you will notice the permanent changes during your child's first year. One obvious one for me is my cesarian scar but that's not all I'm talking about.. my stomach looks and feels completely different.
3. Your house will no longer be the picture-perfect scene you once painstakingly designed it to be.
This is a tough one for me because I have a bit of an obsession with my environment and how it must look. It's hard to have a swinging' 60s lounge with baby furniture, toys, bottles, blankets and socks peeking around every corner. However these items are special to a very sweet someone that makes your home much more filled with love than it ever was before! 😉
4. Your goals will change.
All of a sudden what was most important to you must take a back-burner to what is now most important to you. Where you wanted to live, what you planned to do.. all of these things change. You'll begin to prefer a life that is most comfortable for your child rather than yourself.
5. Your needs come last.
Your baby's needs come first. It sounds pretty obvious but it's a pretty tough realization that your needs may be pushed to the wayside while tending to your baby. I began to realize I no longer had to worry only about my nails, hair, teeth, feet, skin, clothes, shoes, but I was also concerned just as much with caring for someone elses's.
Although it sounds scary.. it's a change that happens gradually throughout your pregnancy and into new motherhood. One day you'll realize your life is not about you anymore.. it's about someone very loud and impatient. Your heart.