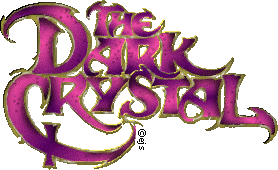 This article is dedicated to one of my all-time favorite movie masterpieces, "The Dark Crystal". Here I hope to share as much as I can get about this movie. I'm learning as I go, so don't go thinking I know everything there is to know about it yet. I'm going by what's out there to look through.
I've recently purchased a slightly less than mint Marvel Comic of this wonderful movie and an elusive (not to mention very rare!) book entitled "The World of the Dark Crystal" by none other than Brian Froud. I'll try to give as much credit as possible to those of whom I gathered these resources from, but almost all of the credit goes to Jim Henson and Brian Froud.
Brian Froud's page includes excerpts and explainations from the movie, but it's just not enough information for my neverending appetite for this movie. It does, however, include some beautiful, captivating lost gelfling created by Brian Froud's wife, Wendy Midener Froud. Her eye for realism in a totally fanciful world is amazing! It makes you wonder if they do exist out there somewhere on their little planet of Thra with their three circling suns.
This movie is a masterpiece, one of the greatest movies ever created, in my opinion. It just happened to be one of those movies that required a little more insight for it to be appreciated, though personally, I would've prefered the Skesis to be speaking their own language leaving us puny humans (that don't know Greek and Egyptian dialects) to read the subtitles. I also would've liked to see the Emperor's funeral in the original and more podling structures, culture, and even an explanation as to *what* they were living in (giant seeds!!).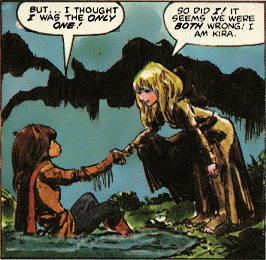 Featured Links
John's Crystal Corner
The Unofficial Dark Crystal Page
The Language of the Skeksis
The World of Brian Froud
The Dark Crystal Wikipedia
The Dark Crystal Muppet Wikipedia
The Dark Crystal 1982 Movie Trailer
This article was originally featured at Starluck's 80's Nostalgia Page in 2002.