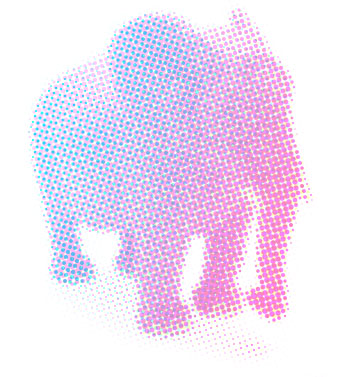 Every now and again you come across a situation in your life that blows your hair back, your skirt up or … just blows. For example: you find out the person you're seriously considering spending the rest of your life with isn't interested in a long term relationship with you. Or you discover one evening, quite by accident, that your husband prefers blondes…who are hung like a horse. Or you learn that your new girlfriend is really a man, or that your movie star/Governor husband has impregnated your housekeeper and has been paying her hush money (out of your pocket) for the last decade.
While most of us have developed various coping mechanisms and strategies for dealing with such blustery situations, including confrontation, therapy, drinking heavily, freaking out, leaving and divorce, the pink elephant is quite a different animal! For those who aren't so familiar with this unwelcome visitor, the pink elephant is commonly referred to as "… an obvious truth that is being ignored or goes unaddressed. The idiomatic expression also applies to an obvious problem or risk no one wants to discuss." (Wikipedia) You see, in most cases when confronted with certain truths we know what to do, or at least have some vague idea and are compelled to take action because some line has been crossed and all people involved implicitly agree and act accordingly. Whereas when the pink elephant appears…it just hangs there like the house guest who never leaves.
Some examples might be: your roommate keeps eating all your food and never admits it or offers to pay, but you don't say anything because you can't afford to live there without them so you carry on as if nothing's wrong, him shamelessly eating his way through your house and home and you cringing every time you see him secretly wanting to scream: "STOP EATING MY FOOD, YOU FOOD STEALER, LEECH, COUCH POTATO, MOOCHER!" Or maybe your boyfriend drinks too much, too often and embarrasses and scares you, but you don't say anything because he says he can't live without you and…you are financially dependent on him and afraid to be alone so you muddle through growing more and more emotionally distant, eventually having angry or passive obligatory sex because now you can't stand when he touches you, yet you don't have the courage or resources to say no, so you don't.
Or maybe your closest relative, the one you have spent every birthday and holiday with for most of your life, has just embezzled money from his boss (who you know intimately) and neither one of you says anything to the other partly because you are in shock, you can't believe they would ever do such a thing, and partly because you don't even know what to say. Really…what does one say in such circumstances? Weeks and months pass while you tell yourself they will come around, make things right…right? Then after months of no one saying anything, a family function presents itself and out of what feels like the complete blue they send you an invitation as though nothing's happened and sign the card "love and miss you"… and you think What the?
Or maybe someone owes you money and said they would pay you, yet every time you see them they don't mention it and well, because you're a polite person and don't want to seem rude or desperate or (fill in the blank) you suck it up and tell yourself, if they don't mention it next time you will say something except in between now and next time you realize this isn't the first time this has happened and that this person always seems to borrow money and not pay you back, and further has some convenient, tear-jerking story about why they can't. So naturally you, being the loving, understanding person you are, wouldn't ask someone who is down and out to pay you back when they are going through hard times…except you notice when you see them next they tell you about the trip they just took or the new jacket they just bought or show you their new cell phone and you think…What the…?
So, what do you do when you don't know what to do? When clearly something is amiss and no one is saying anything about it? The great thing about the pink elephant phenomenon is that it disappears almost completely as soon as one person has the courage to speak it. Literally poof…gone. The challenge is, more often than not as I illustrated, it feels like so much is at stake so we put it off. The problem in that scenario is obvious: the elephant remains or in some cases, grows proportionately. So before you buy a voodoo doll or go postal or, worse, try to make the elephant your pet, here are a few suggestions I recommend when you find yourself faced with the pink beast:
How important is it? What's the relative importance of this issue on a scale of paper-cut to open-heart surgery? If it's really an ego issue or a matter of pride or some other such nonsense, then you may want to deal with that rather than make a bigger issue out of something when there is no need. On the other hand, if you decide it's a major deal at least you have taken the first step to putting the situation in some perspective.
What have you really got to lose? There is an expression, "You can't lose what you never had." So why not take a real honest look and see what it is you're really dealing with here. You may want to consult an expert, pray, see a therapist or talk openly with a friend. See if you can't get some clarity and objective about the situation and see what's truly at stake. Never underestimate the power of support nor the power of the Divine illumination!!
Take the high road! They call the high road the road less traveled for a reason; namely because it's not always easy to say what needs to be said or do the right thing. Don't let that stop you. As my mother always says, "This isn't a dress rehearsal, bring you're A game," and in the end you will know in your heart you were true to yourself!
Trust yourself, above all…you know the answer. The truth is always right there inside you, sometimes it just takes a while to get our courage up to do what we know we have to! On that you can always rely!