Feeling crafty? Are you not sure what to do with the Hawaiian lei that you've had for years but, its so pretty you don't want to get rid of it? Make a cute accessory with it! Its fun, easy and you only need a few materials…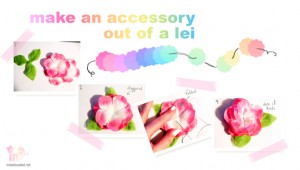 You Need

Fabric Hawaiian Lei


Scissors


Needle


Thread


Clear nail polish


Hot glue gun
Get a container to put all of your loose flowers in and cut the string of the lei. Keep them so you can make more later, because your friends will probably want one too. Pick out about five or six loose flowers and a leaf (if your lei has them) if you want to incorporate it.
Stack the loose flowers on top of eachother, with the leaf at the bottom. Try to stagger the petals so that they aren't perfectly lined up (like in the picture) and slip one or two pins through to hold them together while you work.
Run a few small stitches through the middle of the flower. You don't need to do very many, just make sure its secure and the thread won't come loose. Try to make sure your thread is the same or, close to the same color as the fabric so it stays invisible. If you have to use a different color (like I did) it won't be too bad, just try to stay close to the center.
Now you can make your flower look more three-dimensional, like a rose or a peony. If you like the flat look, you can skip this step. Starting with the petals on top, fold one side over and run a few small stitches close to the center. Work your way around on different layers, repeating this step until your flower has the shape that you want.
Swipe a little clear nail polish along the edges of the petals so that they don't fray any more than they may have already. You can also use your scissors to trim any strays.
Now you can attach your flower to… pretty much anything! Use a hot glue gun or your trusty needle and thread to tack it onto a pin, barrette or head band. You can also attach it to a hair tie or wear it around your wrist like a corsage. Decorate a plain hand bag with colorful fabric flowers!
More Ideas

Run some fabric glitter around the edges of the petals, or make "rain drops" in random spots.


Attach a button, pretty bead or cabochon to the middle.


Hot glue some some crystal rhinestones on the petals to create the "rain drops".


Add other embellishments to the bottom of the flower like ribbons or lace.
If you make one, feel free to post it in the comments!