One important way to getting your life on track and going the way you want it to go is by keeping healthy. But for a second, forget about all the vitamins, potions, and shots that everyone says you need to keep going strong. The one easy (and fun!) way to keep yourself running like a tank is by exercising. And exercising not only keeps you healthy and fit, it can keep you looking hot!
I know, I know. You're tired of people telling you to get your butt to the gym all the time. You think lifting weights is boring. I agree. You think running on the treadmill (literally) gets you nowhere. I also agree. I used to DESPISE going to the gym. And I do mean despise. My hall mates actually had to pick me up out of my bed and carry me to the door to get me to go to the gym with them. But when I realized I was falling victim to the dreaded "freshmen fifteen" last year, I knew something had to be done.
Getting in the habit of exercising is all about finding what exercises not only work for you but which ones you love as well. It could be all well and good that the StairMaster whips your thighs into shape, but if you dread doing it then you'll be more likely to quit working out. I'm not gonna lie, it will take a little bit of time experimenting to find out what exercises you enjoy.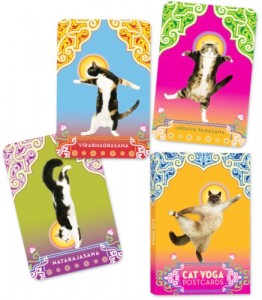 Have a cat?
Cat Yoga!
It took me a few months to finally discover my thing, which happens to be cycling classes. But once I found them, I seriously fell in love. I go almost every day, and cycling not only burns a TON of calories, but the classes are fun too! They go by really quickly, and when I leave the gym I have so much more energy than I had when I got there.
Overall, I still despise the gym in general. But never again will I have to resort to attempting to lift weights in a room full of overly-buff boys, or spend 45 minutes running to nowhere on a treadmill. I found what works for me, and I really enjoy it. Since I've started working out on a regular basis, I have a lot more energy than I had before. Not only that, but in the midst of this awful flu and cold season, I haven't gotten sick!
Many gyms have free trial memberships where you can check out the various classes they have to offer. Take my word for it. Go to your local gym, pick up a trial pass, and see what works for you! It could be something totally unexpected, like belly dancing or karate, but if you enjoy it and you're getting a good workout, that's all that matters.