Amy Doan is an absolute sweetie with a look to make your eyes cry for candy. So that's just what she did, she created Sugarpill Cosmetics so I can coat my eyes in all of the candy I want to. With colors like Absynthe (my favorite- a candy green), Decora (a GLITTERY pink — best color ever), Royal Sugar (shimmery blue with blue glitter, as to die for) and more more more it's easy to see why I can't get enough.
The makeup itself blends GREAT, I added some of my eyeshadow base and it went on like a dream and stayed on to boot. I can't stand eyeshadows that fade during the day! When I went to sleep late that night my eyeshadow was still smiling back at me like a green fairy.
All of the goodies she sent were immediately added to my makeup case along with my favorite Darla Makeup glittery shadows, I'm really starting to feel excited living in such a wonderful world that talented girls are making their dreams happen everywhere. Keep it up!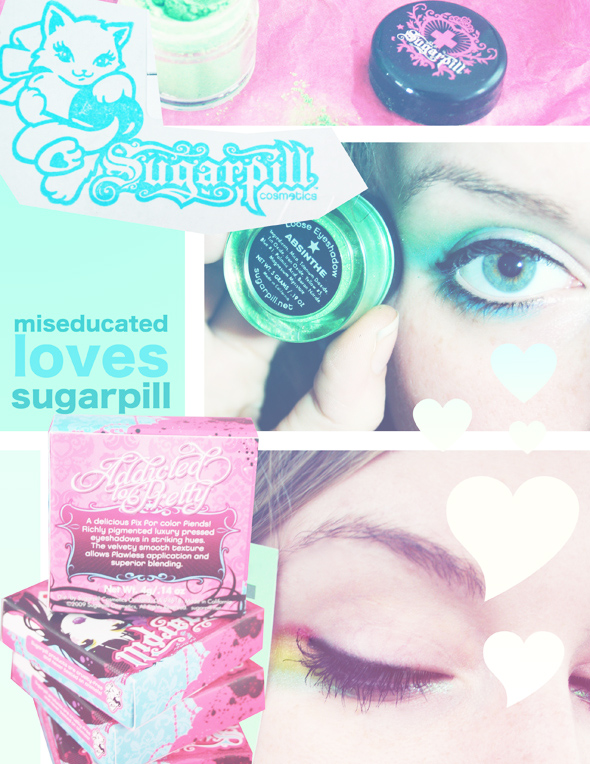 Sugarpill In the News
SUGARPILL: OFFICIAL MAKEUP BRAND FOR HELLO KITTY 35TH ANNIVERSARY
Sugarpill is proud to be the official makeup brand for Sanrio's Hello Kitty 35th Anniversary Celebration. The grand 3-week event took place at Royal/T Cafe in Culver City, California. Models lit up the catwalk wearing colorful Sugarpill makeup to compliment their Hello Kitty themed outfits.