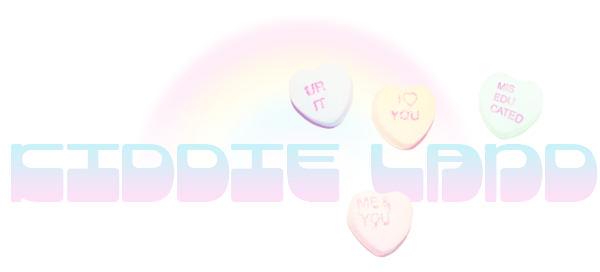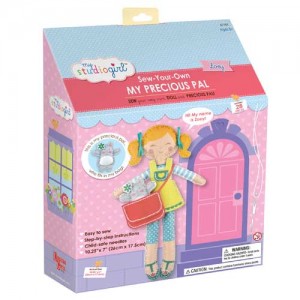 This week and last week happened to be spring break for our children so one day we decided to cruise the craft store for fun projects. Among many things such as paints, beads, paracord and vinyl characters we got sewing kits for our two girls. Mary got a hanging bird for her room and Colette got a sew your own doll.
Upon investigating this new brand I hadn't heard of or seen in the store before I was smitten. The products are adorable and teach kids to sew really cute little toys, create sculpted characters and even how to paper maché kokeshi dolls. I adored their display and product boxes and of course hoped the actual product was as well thought out as it appeared on the box.
Inside both boxes were very clear instructions for numerous stitches (though we only needed the double running stitch for our toys), a step by step guide and everything you need to create the toys. The fabric was a printed felt and very child-friendly with tiny holes all around it to teach them how to sew. It was like an advanced sewing lace kit with something you actually want to keep upon completion. To see how easy the kit was I actually let my 7 and 9 year olds sew parts they chose (they needed help occasionally and it gave me a chance to teach them to sew which I loved) and I assembled the doll by stuffing and sewing her body parts together. In the end our children exclaimed it was so fun that they wanted to do more (and I thought they'd give up after all the sewing!) while Colette was just excited to have her doll. She had previously held the box all through the store telling everyone she's going to have a doll and it only made it more special that she and her family had a hand in it's creation.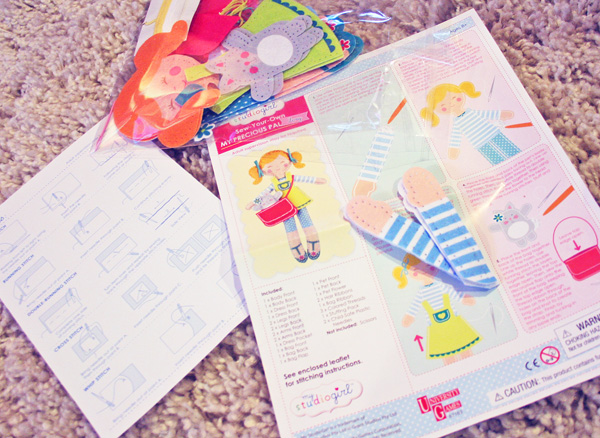 I HIGHLY recommend this brand and the sewing kits they produce. I believe the perfect age for their sewing kits is around 7-9 as my kids could do most of it with supervision and help but learned a ton about sewing plushes and didn't even prick their fingers once as the needles are small and thin plastic ones! Perfect for teaching and a great family project. We are all excited to see what projects this brand comes out with next!