Let us take a trip
to a vintage land called Chi,
where the streets can tell you stories
and the buildings brush the sky.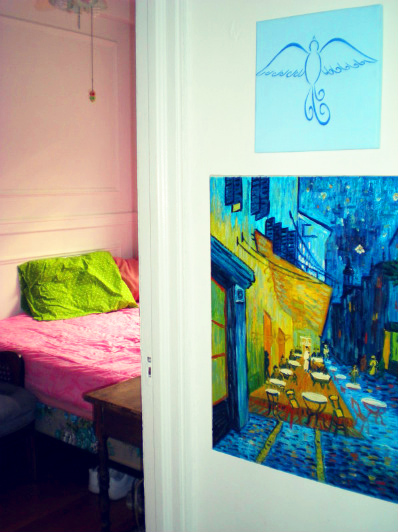 Nestled near the center,
in a place called Lincoln Park,
you'll find a little haven
where the 20's left her mark.
As you journey through the courtyard,
please step lightly and with care,
for it's in this entry garden
you'll find bunnies with brown hair.
Once inside the building,
behind a door with printed V,
you'll find a little nook,
home to M and feline Zooey.
The chairs are bathed in velvet
[they're the best for kitty's naps];
the hardwood floors are shiny,
one can hardly spot the cracks.
The walls are filled with pictures,
an homage to icons past:
Edie, Audrey, Norma,
with their style unsurpassed.
This space is filled with history,
years are painted in the walls;
braided wire o'er the doorway
was once used to import calls.
The gas stove, it cooks with fire
[such a cozy, retro feel],
tempting single Misses
to don aprons for a meal.
Though not much from door to window,
rays of sunlight kiss the walls;
and there's one grand walk-in closet
just in case things feel too small.
Wonder fills this palace
[or so it feels to those within],
there's nothing more like heaven
than to feel your life begin.