Sure, why not. So the word LIFE is a little loaded, or scary, or both. A lifestyle and way of living… that's really a bizarre thing for women to grasp sometimes. When you wake up a little hungover and your mascara has smeared across your pillow, is that a lifestyle? We're not all mothers, homemakers, students, wives, career-driven, party girls, crafty mavens, so why accept Miseducated so freely into our life and mantras? Well don't unless you feel you're a little conventionally different, your lifestyle is a little odd but that's what makes it rad.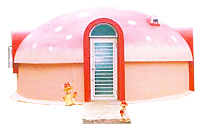 There is no necessary reason to sprinkle the table as well as your cocoa. There is no need for a tiny, pink lamp that releases such a faint fairy glow so that you can hardly see your hand in front of your face at night. These are the lovely pieces that nestle within your life, they add a sense of nostalgia, whimsy and they make you smile.
Now, some tips for making your life and your home a little bit more Miseducated whilst in the lifestyle battle of deciding what you'll do once you actually have clean laundry…
Miseducating your Life Tips
When you finish making your cocoa, whether pink or not, top with a few sprinkles. Add more happy hues into your world where they are sparse. Colors affect your mood but it doesn't mean a little more here and there isn't perfectly acceptable. I'm telling you it is.
Before bed and after a bubble bath or shower, grab some of your favorite scented lotion and rub it all over your body excluding your face! Keep a bottle in your night stand for just this purpose. While you sleep your body sweats and leaves the scent behind, your bedsheets however will smell like your favorite delicious lotion when you jump in next!
When choosing home decor don't stick with safe, muted colors. Choose your favorite colors, choose bases you feel comfortable with, such as black and white or chocolate brown, and add accents of your favorites everywhere. Each and every table, shelf and desk are stylized scenes you have created, feel free to nestle glass bottles of your colors and candles, knick knacks. Hit the antique shops or your local thrift store for some unique, inexpensive finds.
Hide tiny positive fortunes (from fortune cookies, of course!), pictures and notes in numerous, unexpected places around your home. You'll find these and smile later.
Remember, your creativity can only be expressed by you. Stay tuned for more nonsensical tips in the future.