I recently stumbled upon Danielle Thompson's world of deliciousness online, Kitschy Digitals, and have fallen in love with her sweet take on embroidery! She offers embroidery patterns and digital scrap-booking materials that are kitschy-sweet.
I'm definitely digging the cameras and I cannot wait to give these a try!
Downloadable Sanrio Patterns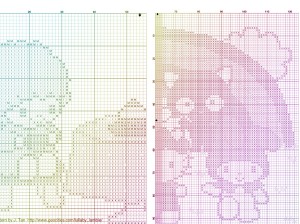 If you're also feeling embroidery and pop colors try these Sanrio patterns I've had stashed for ages, both free for personal use! The wonderful J Tan made these and previously uploaded them for us to try (RIP Geocities).