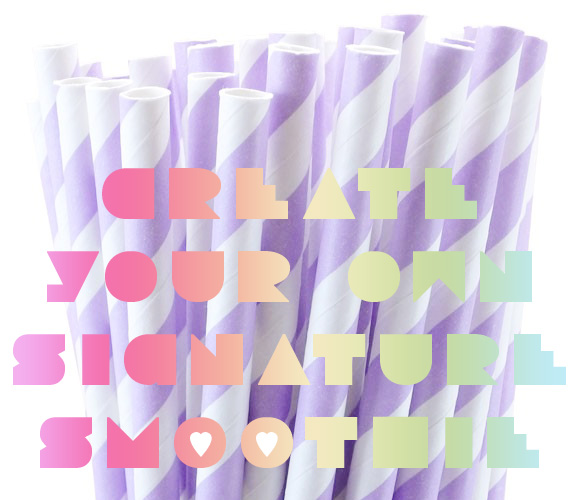 Smoothies have been all the rage for many years now and healthy smoothies are only becoming more appreciated in this drink/dessert niche. Upon staying with my best friend in California and having her craft the tastiest protein smoothies for lunch and then moving in with my health-conscious soul mate and watching him prepare his own green smoothies I started to really appreciate the craft and every unique technique. Fruit or vegetables? Protein powder or vitamin powder? Honey or sugar? Ice cubes or frozen fruit? Milk, water or tea? So I decided it would be fun to discuss the basic craft of the smoothie and all of the ways you can change it up to fit your own specialized taste so that you too will have a signature smoothie recipe! I'll even throw in my own go-to smoothie recipe at the end.
First you need to have a blender or a food processor. I use a blender at home but have tried both.
Next you'll probably want to select some fruit which will likely be one of the main parts of your smoothie. Use fresh (if so you'll later add some ice cubes) or frozen, one fruit or several. Have fun blending your fruit and creating new favorite flavors.
Fruity ideas: Mangos, strawberries, blueberries, raspberries, blackberries, bananas, apples, kiwi, avocados, pomegranates, oranges, watermelon and pineapple.
Next you'll want to select a liquid or semi-liquid to add so you can blend your smoothie. There are obvious ideas and some creative ideas to create a more unique smoothie.
Liquid ideas: Milk, soy milk, rice milk, almond milk, coconut milk, coconut water, greek yogurt, tea, fruit juice, ice cream, sherbet, frozen yogurt, sparkling water or water.
Next you may choose to add protein or extra vitamins to your smoothie by using any number of protein powders or vitamin powders. We have a few here that are chocolate and vanilla flavored that adds a bit of sweetness and more vitamins to the smoothie making it more like a meal.
Next you may want to add some greens or vegetables to your smoothie to add some more healthy benefits. Some greens, such as spinach, don't change the flavor and contain more nutrients. Others to try are kale, carrots, celery, beet root or green powder made from an array of green plants. When using veggies be sure to blend alone with water to make sure your smoothie is smooth and not like a cold vegetable soup.
You can add a sweetener to your smoothie if you feel it will not be as sweet as you would prefer. Try ripe bananas, sugar, honey, agave nectar or, if you must, artificial sweeteners. For me the vanilla protein powders or vitamin powders sweeten the smoothie enough.
To change the taste of your smoothie you can also add different flavor enhancements such as vanilla extract, almond extract, cinnamon, cayenne pepper, nutmeg, salt, coconut shavings, peanut butter, nutella, chocolate syrup and any number of extracts and flavorings you may have or prefer.
When everything is in the blender add a few ice cubes on top. I like my smoothies to be really smooth and icey almost like a smooth sherbet but some just use frozen fruit.
It's time to mix the ingredients together and create your smoothie! Put the lid on the blender and turn it on medium until the blender starts to smoothen the ingredients then slowly turn it up one notch at a time. Start slow and let the blender work the ingredients for a minute until they are as smooth as you would like and pour into a glass. If you'd like to garnish your smoothie use slices of fruit, skewers of fruit, loose berries, a wedge of citrus fruit, a sprig of mint, flat-leaf parsley, a few leaves of lemon verbena or even a little umbrella. If you're feeling in a bubble tea mood try to add some BOBA or small jellies to your glass before you add your blended smoothie and garnish with a wide smoothie straw.
My Own Recipe
Add these ingredients to the blender as noted, blend and enjoy!
Fresh spinach leaves (blend with cup of water until smooth)
Ice (as needed, might need to add more water to blend)
Mango chunks
Pineapple chunks
Apple chunks
Strawberry slices
Scoop of vanilla vitamin powder (may substitute protein powder)
If you like add boba to the smoothie glass and pour in your smoothie after it has been blended smoothly and enjoy with a wide straw!