Imagine your fingernails sparkling when they are typing on the keyboard or flipping the pages of a book! Pretty fingernails really make one feel very happy! Think Sanrio, "Small gift, big smile." In times like these it's the sweet, inspired things that really go a long way.
So let's go on a trip to the nail salon I frequent in Hong Kong! I'm planning to get some gel nails with 3D acrylic nail art and Swarovski crystals.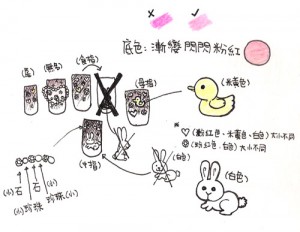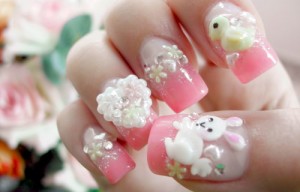 Amazingly the nail painter accomplished my rough sketches to wonderful gel nails!
I found the patterns in some Japanese nail art magazines which the nail salons provided.
But if those magazines can not satisfy your crazy thought about nail art, it is surely more fun to design your own cute nail tips! Miseducated girls are all about inspired lives and diy — I'm sure you have many ideas to use.
You can change your nails in honor of a holiday or occasion; how about a Christmas version with snowman and Christmas tree?
Just draw whatever you would like on your nails and simply write some descriptions about the colours and what kind of stone you prefer.
Use the ideas in magazines as an inspiration, but most importantly, have fun and create whatever you like!