It's easy for us to feel down with the daily grind of life. Especially if you're working a full time job or constantly busy with school. It's important to keep individuality in your life, regardless of your hectic schedule. It brightens up your world and makes you feel a little cheerier. So, what should you do?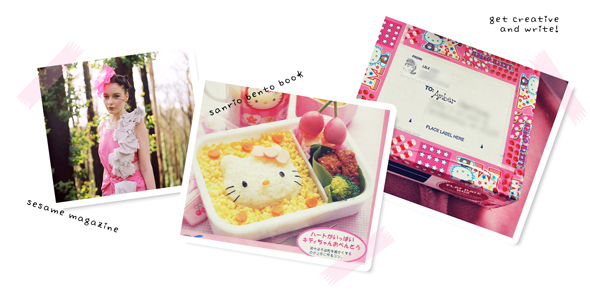 Update your wardrobe, and don't be afraid of color. Sometimes when I peer into the depths of my closet all I see is black, gray, and more black. Color is your friend, even if you've got the professional hat on. Don't be afraid to buy something that catches your eye. If you've got a uniform to wear, put on some bright nail polish or find some lovely under things.

Change your hairstyle. Cut? Color? Go for it. Hair grows out so don't be afraid to do what you want with it. One of the best confidence builders you can get is a great hair day.

Are you a hard working student? Get yourself some adorable school supplies. Check out Kawaii Gifts!

Keep a little journal with you to write down all the positive things that happen in your life. You can keep another one to vent too, but keep it separate. This one's all about the positive. You can even write yourself little love notes to read on a rainy day.

Make like a Japanese school girl and give your cell phone a makeover. Check out Strapya World.

Start working some leg wear into your attire. Take a peek at Sock Dreams.

Find a pen pal. Send each other letters and cute little things in the mail. Instant day brightener.

Plan out your meals a little better. Working hard, being starving when it's time for lunch, resorting to some greasy fast fast food & then feeling awful about it is an ultimate mood killer. Don't skip breakfast either! Maybe it's time to get into the art of bento boxes.

Clean out your life! Get rid of everything you don't need. Donate! Your first assignment: clean out your wardrobe. Get rid of everything you don't wear. This makes room for all your colorful updates.

Stop focusing so much on "practical" and "sensible" 24/7 and start caring more about what makes you happy. Don't let things stand in the way of your joy! Happiness is the secret to life, after all.