Sonya Fu is an artist whose works I feel really drawn to. She has taken inspiration from her dreams visually to a place of solitude. Her work, to me, speaks of the mixture of emotions we feel in dreams and the temporary yet lasting suspension we feel in the dreamworld. Not only do they evoke these feelings in me but she is graphic designer turned artist so her works are done digitally. I think it's important to share her amazing creations in this age where many contemplate whether digital art is a fine art while it's so obvious that it is. Enjoy~
You can find more work and information via her Facebook page or her website~
How long have you been creating art?
I started drawing when I was 3 or 4.
What is your preferred medium?
I work mostly with digital mediums. Digital paintings in which I paint brush stroke by brush stroke using a drawing tablet.
Did it ever become your main focus and when?
It's become my main focus in 2010. I had my first group show invitation when I was still a graphic designer at the time.
What has been your favorite exhibition or event to be involved in?
This is a tough one because I enjoyed all of them!! They are all unique and they are all special! 🙂
What inspires you most?
Dreams. My crazy, wonderful, beautiful, whimsical, disgusting, scary dreams. Also meditation, mindfulness and music.
How do you deal with artist's block?
I doodle, meditate, look at art magazines/blogs, talk to other artists, do things that I feel good about (when I feel good inspiration flows in faster).
What has been your favorite work you've created?
Another tough one! They are all special to me!
Do you have any crazy stories about one of your pieces?
Yes! My work "Tender Stillness", the giant serpent girl, I dreamed about her a few times, she hovered in the sky and raised tsunami.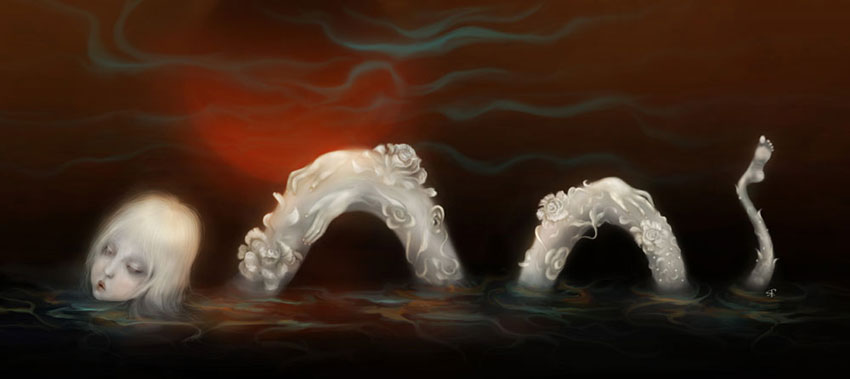 Favorites:
Color? Black
Food? Kimchi fried rice served in hot stone bowl (no meat)
Animal? ALL
Music? Space music, Ambient music, Pink Floyd, Portishead, the Silent Hill OST… the list can go and on!
Magazine? Beautiful Bizarre Magazine, Hi-Fructose, Juxtapoz etc. I appreciate all art mags and art blogs, they are always so supportive of the artists.
Movie? Beetlejuice, Alien series
Book? Seth Speaks: The Eternal Validity of the Soul
Do you have any advice for readers interested in turning their hobby into their main focus?
Stay focused, believe in yourself, be positive and remember "We don't make mistakes, just happy little accidents" like Bob Ross said.
What do you feel is a recipe for success?
Believing in yourself and what you do, positive thinking, being appreciative and grateful, being a good team player, keeping your commitments, meeting deadlines, good time management, being picky about yourself and your work so you make the best out of it, welcoming and being open-minded about criticism because it helps us improve.
Are you Miseducated?
-I guess yes haha, I am both whimsical and unconventional!