"Your To-Do List, is crying on there? If not then get busy."
– Glamour Magazine
I truly cannot even begin to tell you how many times I've crumbled under the weight of all of the things I scribbled on my on-going 'to-do list.' It seemed like my life was run by a piece of scratch paper folded in my pocket. We know that it's common, that it happens to all girls, but that doesn't lighten the load in the slightest.
Well, not too long ago, someone mentioned something called a 'Get To-Do List.' Self explanatory, writing down all of the things that we get to do. And it definitely helps put your priorities in place and appreciate all of things that you get, and unknowingly take for granted.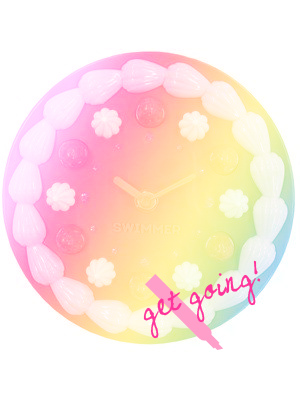 Get To-Do List
1. Go to the gym
Because: I have working legs and arms I get to work out.
Because: Nothing health-wise prevents me from working out. Some people don't have limbs to run with or arms to lift weights with. I'm so glad I've been blessed with this opportunity.
2. Clean the house
Because: I'm fortunate enough to have a roof over my head, a house to clean and things to clean up.
3. Finish that term paper
Because: I'm fortunate enough to be able to get an education. Most of the people in the world don't get to go to school and learn things. Even though it's not always the most interesting way to spend my time, an education is such a precious privilege of mine.
4. Do laundry
Because: I have clothes and things to wash those clothes in. Some people wear rags. Or nothing.
See the difference between this and your regular list?
Boys (or Girls). Period.
We've all done it., sobbed into our pillow because a boy (or girl) broke our heart. Your chest literally hurts. And as cliché as it sounds, the truth is that it's never ever worth it.

If he completely rejects you, then it's probably for the best. Does it hurt to feel rejected? Certainly. But it hurts so much more to be in a one-sided relationship, or to be used. Besides, he's obviously not worth it if he can't even see what a wonderful pair you two would make like you do. That being said, there are most certainly cases where said boy is genuinely looking out for the best interest of everyone involved. Sometimes, not all the time, but sometimes, the boy says so not because the attractions not there, but because he knows he's not ready and it's not fair to either of you to pursue a relationship. Point being, if he's straightforward and honest, it may hurt, but it's no reason to cry. Shake it off, it happens to everyone.

If he leaves you for another (yes, even your best friend)/cheated on you, definitely not worth the water works. Why would you cry over someone so immature and downright cruel? No one like that should have power over how you feel. And as for the girl, should she be someone close to you, she obviously doesn't have concern for your feelings, and youmight want to reevaluate your friendship.

If you never got your chance with him, there's probably a reason for that. While I do believe that there are " ones who got away", I also believe in fate, and that it will eventually bring you to whoever you belong with when you are both ready. So if you feel like you never had a shot, maybe that's a good thing. Maybe you should direct your focus elsewhere and wait for fate to take it's course.
Spilled Milk
If you can't fix it, there's a reason for that. Move on and look toward the future.