Alice in Wonderland is my favorite movie. Yes, I prefer the Disney version, but I do love all things Alice. While many little kids were scared of the film, I sat watching intently, in awe of the oddness of it. I wondered what it would be like to fall down a rabbit hole into a world where everything made no sense. As I got older, I realized that this world had quite a bit of nonsense in it and I wondered if, perhaps, I was already down the rabbit hole. Everything about the world — both Alice's and my own — fascinated me. As I grew up, I focused less on trying to understand her world and more on trying to understand my own. However, there are a few good lessons in Lewis Carroll's fictitious work that I think can apply to us, here in the real world.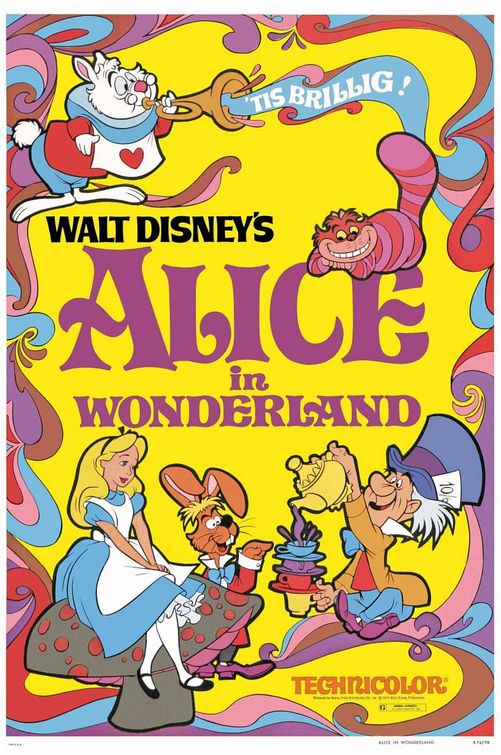 For Christmas, my friend Christina gave me a beautiful Alice in Wonderland journal that she picked up, I believe, at Alice's Tea Cup in New York City. (Thanks, Christina!) It's filled with wonderful quotes from the book and I absolutely love it. When I cracked it open recently and flipped through it's pages, I came across five particularly wonderful quotes that I realize had a great deal to do with living our lives in a positive way. Reading them gave me five great ideas about life and I thought to myself, "Hey! I better share these tips!" So here they are…
Decide where you want to be going.
"Would you tell me, please, which way I ought to go from here?" "That depends a good deal on where you want to go," said the Cat. "I don't much care where–" said Alice. "Then it doesn't much matter which way you go," said the Cat. "–so long as I get somewhere," Alice added as an explanation. "Oh, you're sure to do that," said the Cat, " if you only walk long enough."
Do you know where you want to go in life? I have an idea, but not a certain, definite path. As the Cat says, if you don't know exactly where you want to go, you could end up just about anywhere. This isn't necessarily a bad thing, but if you do have some sort of direction you want to be headed in, you should probably start going that way, rather than just trying to get anywhere. No one but you can point you in the direction or path that is right for you. Figure out what your path is and get on it! No one can do it but you.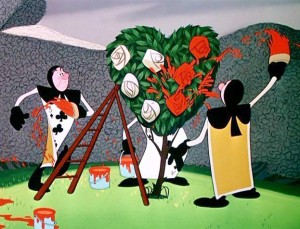 Stop doing things that get you nowhere.
"It takes all the running you can do, to keep in the same place." – The Red Queen
What do you do that keeps you in the same place? Do you want your life to change but you keep doing the same things over and over again? I know that happens to me. I complain about things that I can control. For example, I feel sick when I eat ice cream. I know this, but I eat it anyway and then I complain. It's a lot of working to feel sick, but I keep it up. Why? I'm not quite sure, but I do know the Queen is right. Sometimes it feels easier to keep doing what you've been doing because it's comfortable, but it's actually a lot of work. Are you in an unhappy relationship? Think about how much time and effort and mental energy that takes just to stay where you are. It seems like it would be hard to leave, but, really, it's harder to stay. Don't settle for less than what you deserve in life.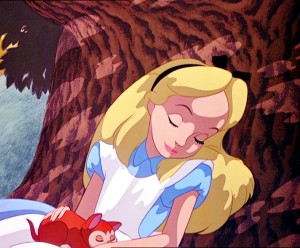 Believe in what seems impossible.
"There's no use in trying," Alice said, "one can't believe impossible things." "I daresay you haven't had much practice," said the Queen. "When I was your age, I always it it for half an hour a day. Why, sometimes I've believed as many as six impossible things before breakfast."
How many of us are like Alice, so certain that something is impossible that we don't even give it a try? People who succeed in life do so because they try and because they have a good attitude. They make an effort. They do, rather than just think about doing. This is hard though. Trust me, I know. I want to be a writer. I want to write magazine articles about topics I'm interested in. I want to write novels that people love and relate to. While I've drafted some articles and even written a novel, have I really done anything to pursue my dream? I often sit back and say to myself, "Oh, that probably won't happen so I guess I'll just stay where I am." I'm doing some writing so it's fine. Nope. This is not fine. My dreams — though they may be grand — are not impossible. And neither are yours so do something about it!
Know who you are.
"Dear, dear! How queer everything is today! And yesterday things went on just as usual. I wonder if I've changed in the night? Let me think: was I the same when I got up this morning? I almost think I can remember feeling a little different. But if I'm not the same, the next question is 'Who in the world am I?' Ah, that's the great puzzle!" – Alice
Who are you? Ah, the great and mind-boggling question. Do you really know who you are? I'm not sure anyone really 100% knows who they are, though some of us have a better idea than others. If you're reading this blog (and weren't already turned off by the crazy Alice in Wonderland nonsense I'm spewing here), you're most likely a thinker, a soul-searcher. You want to know who you are which puts you a HUGE step ahead of most people, who just move through life not knowing and not caring who they are. Keep exploring yourself and trying to learn more about you. Everything you learn about yourself can help you in life. It helps in your job, your relationships, your health, and your happiness.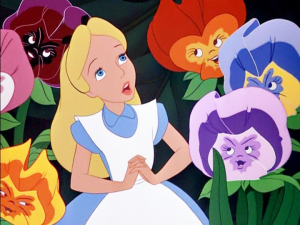 Learn how to communicate with others.
"You should say what you mean," the March Hare went on. "I do," Alice hastily replied. "At least I mean what I say. That's the same thing you know."
Is saying what you mean and meaning what you say the same thing? I'm pretty sure it's not. You should think about this: do you really say what you mean? do you really mean what you say? Communication, for me, is tough. I don't always say what I mean either because I am afraid to or because I'm not sure exactly what I mean. This always leads to confusion and problems. It's much better to take some time to figure out what you mean than to just say things that may be the opposite of, or not even related to, what you mean to say. On the other hand, it's important to mean what you say. When you tell someone something, mean it. Don't just speak to speak.
As you can see, there's a lot to be learned from Alice and her adventures in Wonderland. If you haven't already read the book and seen the movie, you should definitely do so. It's pretty interesting and thought-provoking. I guess this is another example of how we can learn from the world around us. Not only can we learn from the people in our lives and our own experiences, but we can learn a lot from books and music and quotes and films. Pay attention. There's a lot out there that can teach us if we just take the time to be aware of it.
One suggestion I have for you is to think about your favorite book or film or even quote. Why does that mean so much to you? What about that book/film/etc. do you really like? You would be surprised how much you can learn about yourself when you take the time to think about the things that you like in your life. We are all so different and we all really enjoy different things, and there are reasons for this. There is a reason that you like what you do so think about it and you may be surprised how much you can learn about yourself.