Too often to count relationships encounter a trip in the circuit, and things go awry. After the relationship gets a few years under it's belt, it can be easy to let things fall in a style of communication, that at the moment feels comfortable, but not always for the best of the relationship. Lack of proper communication and lead to partners feeling unheard or often taken for granted, and even overwhelmed.
Last year I gave birth to two wonderful fraternal twin boys, and as you can imagine my life is not quite the same. My husband has been amazing through this transition, however we have been trying to adjust to still having our mojo that made us the self-proclaimed perfect mates for each other. Here are some tips that might help you encounter your relationship from other angles, and be overall more generous and open when talking to your lovebird.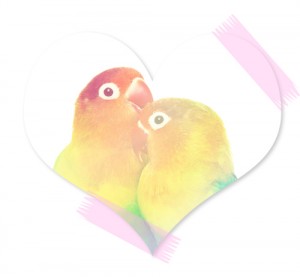 Make your lovebird someone you really trust and confide in. Many of us turn to others such as family, friends, and work friends for support & advice, because they are around us the most during the day. Don't leave your lovebird in the dark, he or she should know what is going on in your life, and how it is that you truly feel.

Treat your lovebird with the same respect that you do your best friend. Too often we tend to overlook our friends faults, even if they drive us crazy. We know that no matter what we need to be there and not judge them, and be the support system they need. Doesn't our lovebird deserve the same?

Remember that you and your lovebird are not the same person, and do not always have the same views on everything. Sometimes it's hard to be the adult and recognize this, however embrace the differences and help your lovebird be the absolute best that they can be. Trying to edit someone to your desire, or quash his or her ideas is doleful affair that helps no one in the end.

When things get heated remember that your lovebird is often acting in what they think is best and are good intentions, trust in them and remain calm and open.

Recognize that when in conflict much our resentments, and defensiveness comes from out own insecurities rather then something that is wrong with our lovebird. Breathe and take a mental step back for a minute think before you speak, before things escalate to a level that no one wants to be in. If a break is need go for a walk and regroup with the best intentions for you both or the situation

After the conflict has occurred come back to them and acknowledge what has occurred. Though apologies aren't always required, but a moment of kindness and a mutual agreement to move on without resentment is best.

Accept that life is a series of phases and life passes you by much too quickly. The relationship changes like everything else, and although it's not the butterflies in your tummy and sweaty palms like it was in the early days. You can let it evolve into a fantastic intimate love that young lovers dream of.